MSP Helen Eadie's funeral held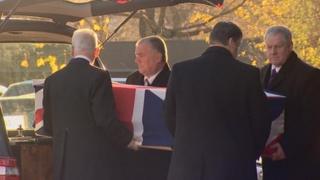 Former Prime Minister Gordon Brown has led tributes at the funeral of Labour MSP Helen Eadie.
Mrs Eadie, who had been a member of the Scottish Parliament since it was established in 1999, died earlier this month at the age of 66.
Her death came just days after it emerged she was being treated for cancer.
Hundreds of mourners attended her funeral service at Dalgety Bay Parish Church in Fife.
During the service, Mr Brown described Mrs Eadie as a "woman of the people" who had been "admired, respected and loved" by all who knew her and had "enhanced and enriched" thousands of lives.
He paid tribute to her "lifelong passion for social justice" and "her deeply-felt desire that every single person should have a fair chance".
Mrs Eadie was initially elected as the MSP for Dunfermline East but became the member for Cowdenbeath following boundary changes.
Mr Brown, the MP for Kirkcaldy and Cowdenbeath, said: "It was her warmth in her dealings with everyone that marks her out as so special and we will never forget her friendly, bright, welcoming smile.
"There's a hero who lives among us, who gets on with doing good things, who is active beyond the call of duty and who unceremoniously makes a difference in our lives, asking for nothing in return.
"Helen was that person, that hero. Helen with that great way of making everyone she met feel special, with a great humility which made her too modest to see just how special she herself was.
"Helen, woman of the people; Helen, believer in people and in the goodness of people; Helen, influence for good; will forever live on in our hearts."
Mr Brown revealed that Mrs Eadie's ashes will be scattered on Inchcolm island in the Firth of Forth, overlooked by her family home in Dalgety Bay.
Parliamentary business at Holyrood was suspended for the afternoon to allow MSPs from all parties to attend the funeral.
First Minister Alex Salmond, Scottish Labour leader Johann Lamont, Scottish Conservative leader Ruth Davidson and Scottish Liberal Democrat leader Willie Rennie were among scores of MSPs present at the service.
Mrs Eadie's daughters Fiona and Jemma read an extract from the poem If by Rudyard Kipling and mourners, spilling into several of the church's rooms, sang the hymns Guide Me O Thy Great Jehovah, Will Your Anchor Hold and How Great Thou Art.
Robert Burns' Ae Fond Kiss was performed by Cathy Peattie, the former Labour MSP for Falkirk East.
Mrs Eadie's coffin, draped in the Union flag, was carried from the church to the strains of Tina Turner's The Best.
Mrs Eadie was born in Stenhousemuir, near Falkirk, and was educated at Larbert Village School, Larbert High and Falkirk Technical College.
She went on to graduate from the London School of Economics with a certificate in trade union studies.
The MSP worked as a member of Fife Regional Council before being elected to the former Dunfermline East constituency in 1999.
She was an active member of the Church of Scotland and had served on the Scottish Parliament's health, transport, public petitions and European and external relations committees.
She campaigned for her newly-elected Labour colleague, Cara Hilton, in the Dunfermline by-election in the days before she was diagnosed with cancer and was later said to have been conducting parliamentary business from her hospital bed.