MSP claims fashion industry support for larger mannequins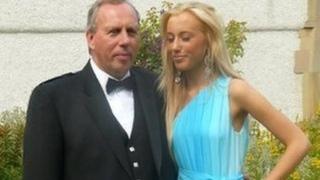 An MSP whose daughter died from anorexia has claimed support from within the fashion industry for his call for shops to use larger-sized mannequins.
Dennis Robertson, whose daughter Caroline died in 2011, has been campaigning for more to be done to tackle eating disorders.
The SNP backbencher led a debate on the issue at Holyrood last week.
He said he had since been inundated with messages of support.
The MSP for Aberdeenshire West, who wants shops to adopt a "more realistic" reflection of customers than the usual size eight or 10 dummies, released a statement which included words of support for his campaign from within the fashion industry.
'Positive step'
Isla Rafferty, managing director of Superior Model Management in Glasgow, said: "I truly believe larger mannequins on the Scottish high street is a positive step in showing women that it is OK to be their natural size.
"Retailers need to cater for the whole of the population, not just one size, everyone is different."
Also quoted was Mal Burkinshaw, programme director of fashion at Edinburgh College of Art, who said the college was working on "a live project directly with H&M on size diversity".
Debenhams has already pledged to use larger mannequins across its British stores.
In Mr Robertson's statement, Debenhams director Ed Watson confirmed: "We will be looking to increase the number of size 16 mannequins in Oxford Street and to start rolling them out to all 170 UK stores."
Mr Robertson said he was "greatly encouraged" by the show of support.
"This is only the start. More support will be gathered and change will come," he said.
"The next step I hope is for the Scottish Retail Consortium to give a definitive and clear message of support and issue their members with guidelines and advice on having a range of model sizes."
He added: "Nobody - least of all myself - is blaming the fashion industry for eating disorders.
"But ultra-thin models do not help the self-esteem of people with eating disorders at all.
"What I am calling for is for the fashion industry to become part of the solution and not part of the problem."