Scottish independence: Carmichael accuses SNP of 'dodging questions'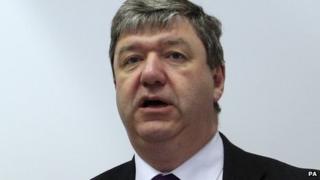 The Scottish Secretary said the SNP must give "straightforward" answers on currency, pensions and the cost of setting up a post "yes" Scotland.
Speaking in Inverness, Alistair Carmichael accused First Minister Alex Salmond of "dodging fundamental questions".
He said many issues could only be negotiated after a "Yes" vote.
Finance Secretary John Swinney said the UK government's appetite for questions would never be satisfied.
He added that the Scottish government would be setting out its "positive and constructive agenda" in its White Paper, due to be published on 26 November.
Scotland votes in a referendum on independence on 18 September 2014. They will be asked the straightforward "yes/no" question: "Should Scotland be an independent country?"
In his first major speech since taking over from Michael Moore, Mr Carmichael said the debate was "not about patriotism", and described the forthcoming White Paper as "a wish list".
Speaking at the Eden Court Theatre, Mr Carmichael posed three questions to the SNP administration around the future of the pound, the cost of pensions and the cost of setting up an independent state.
He said it was "highly unlikely" that the rest of the UK would agree that Scotland could continue to use the pound after independence.
Mr Carmichael said: "This is an important decision for us all. The details matter. We cannot be offered a prospectus of 'it will be alright on the night'.
"Now we know that for many issues all the White Paper can do is provide a wish list of what the Scottish government might like to secure in negotiations.
"The Scottish government should take the opportunity in the White Paper to tell it straight about the fact that many important issues will need to be negotiated and they need to be upfront that there can be no guarantees in advance.
"But that does not excuse the first minister and his team for dodging some fundamental independence questions that they can answer."
Responding to the Scottish secretary's speech, Scottish Finance Secretary John Swinney told the BBC: "I don't think we'll, frankly, ever satisfy the appetite for questions from the UK government.
"The UK government aren't disinterested players in this, they're political actors who are opposed to independence.
"What the Scottish government will do is set out a positive and constructive agenda about how Scotland can establish herself as an independent country, a prosperous country and a fair country."