Former Scottish Tory leader Annabel Goldie takes seat in House of Lords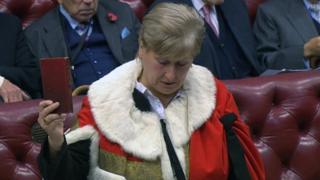 The former leader of the Scottish Conservative Party, Annabel Goldie, has taken her seat in the House of Lords.
She will be known as Baroness Goldie of Bishopton and will sit on the government benches.
Lady Goldie, who was leader of her party between 2005 and 2011, still serves in the Scottish Parliament as MSP for West Scotland.
After the ennoblement ceremony, the politician said she was privileged to take her place in the Lords.
She added: "My priority remains the Scottish Parliament but the House of Lords is a significant part of British constitutional governance.
"It is important that in a devolved Britain it reflects the family of nations which comprise the United Kingdom and I look forward to contributing a Scottish perspective."
'Tremendous addition'
Lady Goldie was flanked by Conservative supporters Lord Sanderson of Bowden and Lord Selkirk of Douglas as she took the oath of allegiance to the Queen.
Scottish Conservative leader Ruth Davidson said: "Annabel's presence will be a tremendous addition to the House of Lords.
"Her warmth, wit and common sense approach will add immeasurably to the upper house at Westminster.
"However, her primary responsibility for the rest of the Scottish Parliament term will be the invaluable work she does as Scottish Conservative constitution spokeswoman at Holyrood."
Lady Goldie, 63, was one of 30 new peers announced by the Prime Minister David Cameron in August.