Scottish independence: Union 'benefits research community' says paper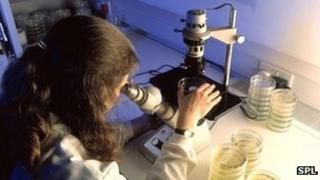 Scotland's scientific research base could be threatened by a break from the UK, according to UK Universities Minister David Willetts.
The UK government's eighth paper, analysing Scotland's place in the union, has focused on science.
It said Scotland's science was more effective and stable within the UK.
The Scottish government dismissed this as "scaremongering" and said Scotland would continue to attract funding and students from around the world.
The paper highlights the relative success of Scottish universities in attracting funds from the £3bn annually available through the UK's seven research councils.
Funding share
While Scotland's population share is 8.4%, it wins 10.7% of research grant funding, amounting to £307m in 2012-13. That implies a net inflow of funds, above Scotland's population share, of about £60m.
The share of funds coming to Scotland increases to 13.1% when expenditure includes research council institutions and infrastructure. For example, Edinburgh University is funded for advanced computing and Medical Research Council institutes.
Scottish researchers also have access to major facilities in the rest of the UK, and to international projects part-funded by the UK, including observatories and the Hadron Collider at CERN, the European Centre for Nuclear Research near Geneva.
Speaking in Edinburgh, Mr Willetts argued that the UK provides a framework assessing research quality, which is used as the basis for securing international and business funding.
He said: "This is a celebration of something that works. Britain has got a world-class science base where we are second only to America in the quality and impact of the science that we do, which is quite an amazing achievement for a medium-sized economy.
"British science across the UK is great. Edinburgh science is great, Glasgow science is great, all the other ones are as well. Abertay does brilliant stuff in computer games, for example.
"If the best you can say is you would strain every sinew to try to keep the same thing as you had pre-independence then the game hardly seems worth the effort.
"Why not just stick with what you have got, which everyone says is working?"
'Transcends borders'
In the analysis, the UK government states: "In the event of a vote in favour of independence, relationships between the continuing UK and an independent Scottish state would become international relationships.
"While there are examples of international research cooperation, these typically involve encouraging voluntary coordination of research programmes and limited joint funding initiatives as well as collaborations on specific projects and are not a replacement for national approaches."
It also contrasted the UK's funding with that of Scandinavian nations, which has been running for eight years, and amounted to £13m in 2011.
Professor Pete Downes, convener of higher education umbrella group Universities Scotland, said collaboration was key.
He added: "We welcome the paper's recognition of the strengths which Scotland brings to the overall UK research and innovation ecosystem.
"This collaborative ecosystem transcends all borders and strengthens the quality of research and development.
"It is in everyone's interests that this important and vigorous cross-border collaboration is supported to continue, whatever the result of the constitutional referendum."
'Scaremongering'
Scottish Education Secretary Mike Russell called Mr Willetts' paper "ridiculous", and said it was vital that decisions affecting universities were taken in Scotland.
He added: "David Willetts' Project Fear paper has lasted barely a day before being fatally undermined by the universities themselves.
"Universities Scotland point out that the way we conduct research 'transcends all borders'. In other words, today's ridiculous report is irrelevant at best and outright scaremongering at worst.
"Scotland has re-established free education with the abolition of university tuition fees so the sight of a Tory minister, backed up by their allies in the Labour party, lecturing Scotland on universities will go down very badly.
"Indeed, helpfully, the No camp's paper highlights the world-class research and standing of Scotland's universities.
"We have more world-class universities per head of population than any other country and it is precisely because of that global excellence that in an independent Scotland will continue to attract valuable investment, research funding and students from around the globe."
Last week leading bacteriologist Prof Hugh Pennington warned that a "yes" in next year's referendum could curtail the careers of young scientists.
He is spearheading the new group Academics Together, an arm of the pro-UK Better Together campaign.
Prof Pennington, emeritus professor of bacteriology at Aberdeen University, said the absence of barriers allowed not just "funding and people, but ideas and innovation, to flow freely across borders".