Scotland marks Remembrance Sunday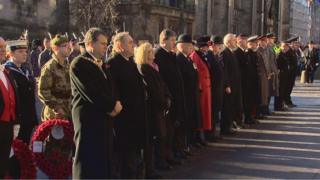 Services have been held across Scotland to mark Remembrance Sunday.
First Minister Alex Salmond and Scottish Secretary Alistair Carmichael laid wreaths at the Stone of Remembrance in Edinburgh.
Similar ceremonies have been taking place in churches and at war memorials around the country.
Small crosses with messages for servicemen and women past and present are also on display in Fields of Remembrance in Edinburgh and Inverness.
They have been set up by charity PoppyScotland as part of a fundraising appeal.
About 10,000 crosses are on display in the Field of Remembrance in Princes Street Gardens in Edinburgh and in Inverness there are about 2,100 crosses.
The initiative has raised £240,000 to support veterans and their families this year.
'Pay respects'
In Edinburgh, the gun was fired from Edinburgh Castle and a two-minute silence was observed, marking the end of the anniversary of World War 1.
The Royal British Legion Scotland Remembrance Day parade of veterans, serving military detachments and cadets marched from St Giles Street to the Stone of Remembrance at the city chambers.
The parade and ceremony was being followed by a service at St Giles Cathedral.
Mr Salmond laid a wreath with 17-year-old Army cadet, Colour Sgt Sean Collister, who is a pupil at Craigroyston High School in Edinburgh.
Speaking ahead of the service he said: "Remembrance Sunday is a solemn occasion when we recall the huge sacrifices made in past conflicts.
"Scotland will pause in memory of those who gave their lives in the service of their country. And we also pay tribute to those who continue to serve bravely today in conflict zones far from home.
"This year's Remembrance Sunday service holds particular significance, as it is the last before next year's centenary of the outbreak of the First World War."
'Heartfelt tribute'
Mr Carmichael laid a wreath and delivered a reading at the cathedral service.
He said: "It is an honour to pay my respects and lay a wreath in memory of all those who have made the ultimate sacrifice in the service of their country.
"For those who have served and fallen in the line of duty in the past and for those who continue to serve our country with distinction, today acknowledges their bravery and dedication and emphasises that we will never forget."
Kevin Gray, chief executive officer of the Royal British Legion Scotland, said: "On Remembrance Sunday, our heartfelt tribute will be paid to every single serviceman and woman that has fought and died to keep us safe.
"On this momentous day our thoughts will also be with those who still serve in our Armed Forces and all their loved ones. As we approach the centenary of the start of World War I in 2014 we are reminded especially of all those who lost their life in that conflict."
In Glasgow's George Square a guard of honour was formed by the Royal Navy and Deputy First Minister Nicola Sturgeon was among those who laid a wreath.
'Channels of peace'
In Aberdeen, members of the armed services, veterans and pipe bands paraded from Belmont Street through the city centre to the war memorial at the Cowdray Hall.
A wreath-laying ceremony was held followed by a service in the Kirk of St Nicholas.
The Moderator of the General Assembly of the Church of Scotland the Right Reverend Lorna Hood said: "At this time of year among fallen leaves and falling poppies, we can stop and remember those who did not return from war and conflict, their lives lost at sea, on land and in the air.
"We can remember those who suffer still, damaged in body, mind or spirit.
"As we pay respects to those whose sacrifice took place long ago, may we also remember those in danger right now in so many parts of the world."
She added: "May we be channels of peace in small-scale relationships and encouragers of peace on the wider stage. May we all play our part in striving towards a world without war, built on mutual trust and care, mercy and justice."