Health board elections 'had no impact' says minister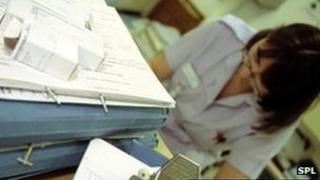 Scotland's health secretary has defended a decision to abandon the idea of directly elected health boards.
Alex Neil said two pilot elections had not improved ground-level participation in decision-making, and would have been too costly to roll out.
He said there were "better ways" to get local people involved.
The Scottish Liberal Democrats urged the government to focus on frontline health concerns such as staffing levels and waiting times.
Speaking on the BBC Radio Scotland's Good Morning Scotland programme, Mr Neil conceded that election pilots held in Fife and Dumfries in 2010 had failed to improve participation.
He said rolling elections out across Scotland would have cost £12m, which could not be justified since turnout had been "extremely disappointing" and the scheme had "not had an impact".
Lib Dem health spokesman Jim Hume has called the pilot, which cost £773,000, a "costly shambles".
However, Mr Neil said an alternative idea to attract a wider range of people to apply for posts on boards had been successfully piloted and would be rolled out.
'Improving accountability'
He told Good Morning Scotland: "NHS Lanarkshire is under-represented in a number of minority areas - they need more women, and people from ethnic minority and disabled communities. They've gone out right into the community, to community councils, voluntary and third sector organisations, and advertised for two vacant board positions to be filled by people from under-represented groups.
"That's been very successful. They've had 56 applications - that's five times the number of people who stood in the elections. We believe that's much more representative of the community and a more successful way of improving accountability."
Instead of using traditional promotion such as advertising in newspapers, the scheme used community sources and social media to attract potential candidates and has "no additional cost", according to Mr Neil.
Mr Hume said health boards would be more accountable if the local councillors who already sit on them were given greater input, and urged the government to concentrate on frontline concerns.
He told the programme: "There are many issues to concentrate on with health boards. We're still not employing enough consultants and nurses. There are still concerns over A&E waiting times, postcode lotteries and some areas meeting their targets on cancer treatments."