27,000 public sector workers on zero-hours contracts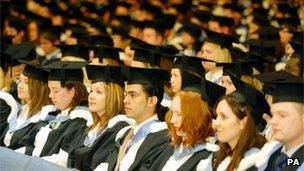 At least 27,000 people working in Scotland's public services are on zero-hours contracts, MSPs have been told.
The figure was revealed by Labour MSP Ken Macintosh, who urged the Scottish government to show leadership on the "invidious" issue.
Of the total, at least 8,000 were working in the higher education sector.
Deputy First Minister Nicola Sturgeon called for all parties to work together to address the problem.
Earlier this week, the Educational Institute of Scotland (EIS) revealed in a survey that all universities use the contracts, which tie employees to an institution but don not guarantee regular paid work.
Mr Macintosh, the Eastwood MSP, said he used Freedom of Information requests to obtain the figures, and accused the SNP of sanctioning the use of zero-hours contracts.
During First Minister's Questions, he asked Ms Sturgeon, who was standing in for First Minister Alex Salmond during his trip to China: "When will her government show the sort of leadership on this issue that Scotland expects?
"Her ministers and her government already continue to defend the use and the awarding of government grants to multinational companies that use zero-hours contracts.
"At least 27,000 people are working in the devolved public sector. That's the area for which this government has entire responsibility."
Ms Sturgeon said she, the first minister and other government ministers "deprecate and condemn the inappropriate use of zero-hours contracts".
She told the chamber the EIS survey made for "worrying reading" and said she was pleased to see that Edinburgh University had reached an agreement with unions to review its use of zero-hours contracts.
She added: "We all agree zero-hours contracts and their inappropriate use are unacceptable, so let's agree to work together to try to do something real about it."
The FOI requests lodged by Mr Macintosh questioned a range of public bodies in Scotland, including the NHS and councils, on their use of zero-hours contracts in 2012-13.
More than a dozen bodies did not provide figures, meaning the actual total could be higher.
Related Internet Links
The BBC is not responsible for the content of external sites.