Alex Salmond signs partnership agreement with Hong Kong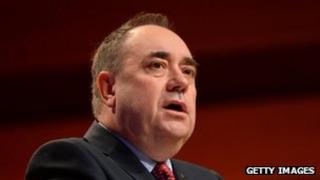 Universities in Scotland are to share expertise with institutions in Hong Kong in a bid to boost investment, according to the first minister.
Alex Salmond, who is on a trade mission to China, said much of the work would focus on life sciences and energy technologies.
He described the agreement as an opportunity to create economic growth.
Hong Kong's education secretary said he encouraged the development of joint academic research.
It is hoped the framework will see academics from Scottish universities working with their counterparts in Hong Kong on "key global research challenges".
During his visit to China Mr Salmond, who is accompanied by delegates from 30 companies, has already announced business partnership agreements worth £40m.
It has also been announced that Edinburgh's Heriot-Watt university will become Scotland's fifth Confucius Institute, focusing on Chinese business and communications.
New opportunities
Mr Salmond said: "Today's agreement will bring the benefits of Scotland's world-leading reputation for excellence in higher education to Hong Kong.
"It sends a clear message that Scotland and Hong Kong are working closely together, with life sciences and energy industries being examples of two industries that stand to gain from our close partnership."
Hong Kong's Education Secretary Eddie Ng Hak-Kim said: "This is the government's recognition of the excellent research work undertaken by academics and their students in the higher education sector."
The Scottish Funding Council, which will lead the project with Hong Kong's Research Grants Council, said the partnership would enhance the reputation of Scottish universities and lead to "wonderful new opportunities" for Scots researchers.
Julian Taylor, executive director for trade body Scottish Development International in Asia, said: "This agreement is only the start of what is expected to be a long-term sustainable partnership between the best in Scotland and the best in Hong Kong to lead on key global research challenges, resulting in significant competitive advantage for both countries."