Scottish independence: Former Labour heavyweight backs Yes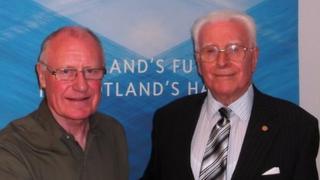 A retired Labour councillor who led what was once Europe's biggest local authority has backed independence.
Sir Charles Gray was one of the most powerful figures in Scotland when he served as leader of Strathclyde Regional Council between 1985 and 1992.
Sir Charles, 84, said independence would allow Labour to "reclaim its place at the forefront of Scottish politics".
And he urged other Labour supporters vote Yes in the referendum.
Scotland will go to the polls to vote on independence on 18 September 2014.
Sir Charles, a former president of the Convention of Scottish Local Authorities (Cosla), said: "I would appeal to all Labour supporters to grab this unique opportunity and vote for an independent Scotland so that we can start to build the kind of country we want for our families and future generations based on an agenda of social justice and fairness.
"I have always been in favour of home rule for Scotland and we have to give credit to Alex Salmond and the SNP for getting us to this stage in the process.
"A Yes vote is the only way to ensure that Scotland gets the kind of government that the people of Scotland choose and that we get rid of a Westminster system that is out of touch with Scottish opinion, priorities and values and imposes such dreadful policies such as the Bedroom Tax."
"I don't believe that whatever government we had in an independent Scotland that policies like that would ever be introduced."
Nuclear weapons
Sir Charles said one of the main reasons he was backing independence was his desire to see nuclear weapons removed from Scotland.
The retired railway worker, whose political career spans half a century, added: "I am convinced that a Yes vote next September will be the making of Scotland as well as the means for Scottish Labour to reclaim its place at the forefront of Scottish politics and Scottish life."
He said he was confident that following a Yes vote Labour would be elected the first government of an independent Scotland in 2016.