Scottish independence: Tax and benefits reform 'could benefit economy'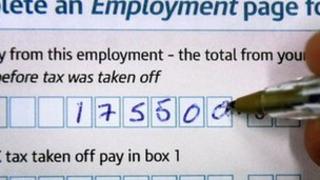 An independent Scotland could link the tax system to welfare payments, according to an expert commission set up by the Scottish government.
It said the complex UK tax system could be reformed in Scotland, at lower cost and relatively easily.
Finance Secretary John Swinney said the commission's report showed Scotland could "transform" its tax system.
The pro-Union Better Together campaign said the commission's approach raised more questions than it answered.
The Fiscal Commission's report, which looked at tax arrangements in an independent Scotland argued that a new system could remove the sharp withdrawal of benefits as people get jobs, making work more attractive.
That could be an economic advantage over "key competitors", it said.
The recommendations said independence would provide Scotland with the opportunity to ensure the tax and welfare systems help boost growth, address inequality and stabilise the economy.
The Fiscal Commission said an "obvious option" would be for an independent Scotland to continue with the existing UK system, but "this would be a missed opportunity".
"The UK system has a number of weaknesses that could be reformed relatively easily," it said.
Among the reforms are more than 1,000 exemptions from tax, and tax law running to more than 10,000 pages, it is estimated.
The report said a less complex system "would require political willingness and imply tough choices".
It also argued that the experience of Ireland, Sweden and New Zealand was that smaller countries could collect tax more efficiently - that is, at a lower cost per pound collected.
Crawford Beveridge, chairman of the Fiscal Commission, said: "The UK tax system is complex and costly, and does not fully reflect the unique characteristics and needs of Scotland. There is considerable room for improvement in its design and operation."
Commenting on a "whole system" approach to linking taxation with welfare, he went on: "Small countries are not just scaled down versions of larger countries, and utilising Scotland's size through streamlined institutions and decision-making would facilitate a comprehensive approach which allows a clear focus on the objectives of taxation and welfare across the entire public sector and beyond.
"If Scotland was to get such design right, this could represent a major competitive advantage, offering a more robust and efficient tax system than key competitors."
Scottish Finance Secretary John Swinney said: "The paper makes clear that the Westminster system has become overly complex and imposes unnecessary burdens on both individuals and businesses.
"With independence, the Scottish government could change this outdated and antiquated system and transform it into a system that is fit for 21st century Scotland."
A second Fiscal Commission report looked at the fiscal framework in which an independent Scotland would operate.
It said an independent Scotland should have a budget watchdog, but on a smaller scale than the Office for Budget Responsibility (OBR) which oversees UK spending.
'Big question'
The leader of the pro-Union Better Together campaign, Alistair Darling, said that while income tax rates might change in an independent Scotland, the SNP government was "telling us nothing about exactly how much tax we would pay".
He added: "Until the nationalists give us an answer to the big question on tax, no-one will believe any of the promises they make.
"Once again we have the SNP government saying one thing in public and another in private.
"Today he pretends we could save money, but John Swinney previously told the SNP Cabinet that collecting taxes would be far more expensive for Scotland after leaving the United Kingdom."