Scottish independence: Small nations 'can have influence'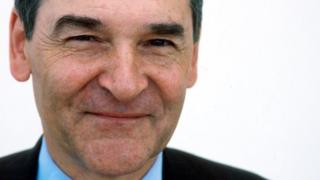 Small countries can have the same influence on the world stage as larger nations, according to a former senior British diplomat.
Sir Jeremy Greenstock said Scots were being offered a choice between a small country with a "big label", and a less distinct area with UK weight behind it.
Sir Jeremy said neither option was inherently "better".
Scotland will vote in a referendum on independence on 18 September 2014.
Speaking at the meeting of the United Nations Association of Scotland in Edinburgh, Sir Jeremy, who served as the UK's ambassador to the UN, said small nations represented by a "very powerful individual" can be just as influential or even more so than larger countries who field poor diplomats to deal with foreign affairs.
He said having oil and other natural resources was also an important factor when negotiating on the world stage.
'Distinct voice'
Sir Jeremy, who also served as Tony Blair's special envoy to Iraq, said: "The smaller populations represented by member states in the UN have a distinct voice and are recognised with the label of their national name on it.
"That could be more influential if they play their cards cleverly, have a particular national attribute like a lot of oil or some other natural resource, or be the gateway to something important for the larger states.
"Or they could have a very powerful individual as their representative at the UN.
"The US could have an individual who fails to project themselves and lessens American power.
"But you would need to take account of the fact that losing the voice of the UK in your interests would be accountable. You could count the difference.
"Having your label as Scotland would appear bigger to you than it would be to the audience of the UN General Assembly.
"Those are considerations which you would have to look at subjectively, and I am not going to say as an Englishman which is better."
'Identity politics'
Small nations could exposed to the "larger storms of the global level" if their leadership is weak, he added.
Sir Jeremy, who is half-Scottish, said he would be personally disappointed if Scotland left the UK, and was concerned by the growing influence of "identity politics" over global unity.
But he said he could live with either outcome of the referendum and rejected the notion that one is inherently better than the other.
Sir Jeremy said in the event of a Yes vote Scotland would secure independent membership of the UN but would be unlikely to get a seat on the UN Security Council.
"I think I would regret not having Scotland as part of me geopolitically, since I am half-Scottish, and I would regret it from a diplomatic point of view because the Scots nation has contributed an enormous amount to British diplomacy and the handling of foreign affairs," he said.
"World politics has become much more about identity politics. In Scotland, it comes from a stronger feeling of Scottish identity, and wanting to project that into the world."
But he added: "Is there an understanding of the limitations of the concept of self-determination?
"At what point should self-determination stop and people realise that they have to be part of the global framework to guard their freedoms, rights and preferred objectives?"