Scottish independence: 'DFiD could keep Scotland base'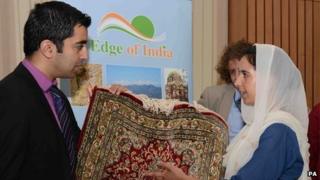 Scotland could keep UK government aid jobs if it becomes independent, an SNP minister has said.
The Department for International Development (DfID) currently employs about 40% of its staff in East Kilbride.
The SNP would "look to preserve employment" for them in an independent Scotland, Humza Yousaf told a Commons committee sitting in Edinburgh.
But East Kilbride MP Michael McCann said Mr Yousaf's guarantee was "weak".
Questioned by Westminster's international development committee, which launched an inquiry into the issue earlier this year, Mr Yousaf, who holds the Scottish brief, said Scotland could be "right at the top" of the world rankings on the issue.
Earlier, he said an independent Scotland would enshrine in law a commitment spend £7m of every billion earned on foreign aid - meeting the UN's 0.7% of gross national income target.
Mr Yousaf told the committee the UK government may wish to retain its existing presence and expertise East Kilbride after independence.
"I have no aversion whatsoever to DfID having a continued presence in Scotland post-independence, if they want, for the continuation of projects," he said.
"We would look to preserve the continuity of employment."
Mr McCann, who is a member of the committee, said Scottish staff would want further assurances about their future.
He said: "You have guaranteed to 'look' at it. Members of staff at East Kilbride will not take reassurances from that, because they will recognise that the guarantee you are offering is pretty weak."
'Small independent nations'
The UK currently sits ninth in the world in terms of its international development contributions, with Denmark, Norway and Sweden giving most.
Mr Yousaf, who criticised successive UK governments for selling arms to military regimes around the world, said: "Of the eight countries above [the UK], seven are small independent European nations.
"Scotland could do at least as good a job, but I think we could do better. We could be the world leader and develop policies that put us right at the top."
But committee convenor Sir Malcolm Bruce, Liberal Democrat MP for Gordon in Aberdeenshire, said Scotland could not compete with the UK "economies of scale", and pointed out that the UK holds influential executive positions at the World Bank and the International Monetary Fund.
He said: "This committee has seen the British government in action helping to shape and direct the policies of the world bank in a way that, frankly, Scotland, Norway, Luxembourg and Sweden don't.
"You're perfectly entitled to say that that's not important, but I think it's important that the people of Scotland know that right now we are influencing these bodies, regional development banks and the United Nations, because we have that seat at the top table because we are big players."
Mr Yousaf replied: "I do take slight issue with the idea that Scotland has a seat at the top table.
"We may differ in some aspects of international affairs, but we won't often be consulted.
"What independence does give you is that voice in your own right. A number of small countries are very influential in multilateral organisations and very important world bodies."
Elsewhere, Mr Yousaf told the committee Scottish universities could still apply for UK grants following independence.
He said: "University principals including Tim O'Shea (Edinburgh) and Ian Diamond (Aberdeen), and many others, have said there is no barrier to Scotland becoming an independent country and continuing to receive that funding in collaboration with the UK Government."
Mr Bruce said: "Well, they would say that, wouldn't they?"
A DFID spokesman said: "Scotland is already one of the world leaders in aid as part of the UK. The UK will this year meet the 0.7% target and, in doing so, will become the first G8 country to reach this target.
"As the second biggest donor of development assistance in the world, the UK is able to exert real leadership and improve conditions for poor and vulnerable people."