Grangemouth: Cameron blames 'rogue' union official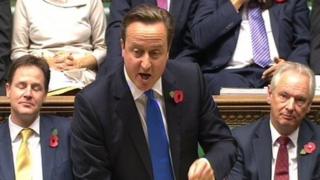 David Cameron has blamed a "rogue" union official for the Grangemouth dispute which almost led to the closure of the plant, with the loss of 800 jobs.
Speaking in the Commons, the prime minister said the dispute, which was prompted by the suspension of Unite official Stevie Deans, had nearly brought the industry "to its knees".
He called on Labour to hold an inquiry.
The Unite leader called Mr Cameron's comments "disgraceful".
Asked about the role of unions during Prime Minister's Questions, Mr Cameron said: "We have a real problem with a rogue trade unionist at Grangemouth who nearly brought the Scottish petrochemical industry to its knees, we need to have a proper inquiry, a Labour inquiry."
Len McCluskey, leader of Unite, denounced the comments as an attempt to gain political advantage out of the dispute.
He said: "The prime minister's conduct today was disgraceful. Mr Deans served thousands of working people loyally for 25 years. The tragic truth - which the prime minister has no interest in - is that a decent man lost his job trying to protect the jobs of hundreds more.
"The prime minister's rush to smear a good and honourable man will appal decent-thinking people. It dishonours the office he holds and he should apologise at once."
Investigation
Mr Deans had been suspended while the site's owner, Ineos, investigated his involvement in the row over the selection of a Labour candidate in the Falkirk constituency.
Management were looking at claims that he used company time for union business.
His treatment led to Unite to vote for strike action which led to last week's shutdown of the plant.
Mr Deans and would-be Labour MP Karie Murphy were both suspended by the Labour Party as it investigated allegations of candidate-selection fixing in the Falkirk constituency earlier this year.
The investigation was closed last month after key witnesses withdrew evidence suggesting that they had been recruited to join Labour as part of a drive by Unite to cram the constituency party with supporters who would back its favoured candidate in a selection battle.
Both Mr Deans and Ms Murphy were reinstated as Labour members, but Ineos proceeded with its own investigation into Mr Deans's activities, prompting Unite members at the petrochemical site to ban overtime and opt to take other industrial action at the end of last month.
Unite said Mr Deans wrote in his resignation letter to Ineos that he was being treated as the "enemy within" after 25 years of working at the plant, and he accused the company of leaking emails to the media to "smear his reputation".