Scottish independence: May terror warning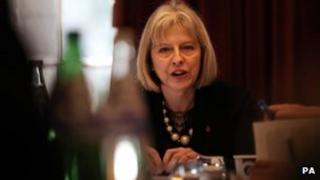 An independent Scotland would have a reduced ability to detect and prevent terrorist and criminal threats, the UK home secretary has said.
Theresa May said the current intelligence and security network would be difficult to replicate.
Her comments came as she launched a UK government paper on the issue in Edinburgh.
The Scottish government has said an independent Scotland would have "first-rate" security arrangements.
The UK government paper, which came ahead of the Scottish independence referendum, on 18 September next year, said threats from organised crime gangs, cyber-criminals and global terrorism "are best confronted with Scotland inside the UK".
Ms May said: "I don't think it is possible to guarantee that the threat would diminish with a separate Scotland.
"But what would change would be the scale of capability that Scotland would have access to."
The UK's current intelligence and security network could not be easily divided and resources such as the £860m UK cyber-security programme would not be available to Scotland, she added.
The Scottish government argues that assets, including those covering defence and security, should be divided fairly between Scotland and the rest of the UK in the event of a "Yes" vote, but Ms May said the SNP must set out how they would deploy them as part of a Scottish security service.
She added that an independent Scottish state would lose automatic access to UK intelligence impacting on its ability to counter espionage and hostile foreign intelligence activity as well as terrorism.
The paper pointed to specific examples of Scots being caught up in terrorist incidents, including the Glasgow Airport attack in 2007 and those involved in the In Amenas gas plant attack in Algeria in January this year.
The UK government would not prevent UK security personnel from joining an independent Scottish security service, she said.
The Scottish government said that, in the event of independence, Scotland would work closely with the rest of the UK and international partners on security and intelligence matters.
Justice Secretary Kenny MacAskill said: "These claims are wrong - not least because Scotland is already an independent jurisdiction when it comes to policing and justice issues, and current cross-border cooperation shows how well that can work to combat terrorism and other threats.
"An independent Scotland will have first rate security arrangements to counter any threats we may face. And we will continue to work in very close collaboration with the rest of the UK and international partners on security and intelligence matters, which is in everyone's interests."