Scottish councils impose pay rise on staff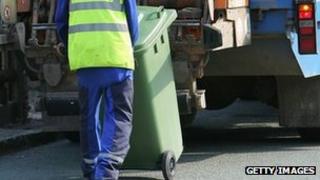 Scottish councils have imposed a pay deal on their staff after almost a year of negotiations failed to reach an agreement.
Council staff other than teachers will get a 1% rise backdated to April of this year - and a further 1% rise next April.
The decision was taken at a meeting of the council umbrella body Cosla.
Cosla said it could not allow the "dragging of feet" by the Unison union to continue.
"This cannot continue any longer - our employees deserve their pay rise now," said Cosla's human resources spokesman, Councillor Billy Hendry.
"We have been in negotiations with the Scottish Joint Council trade unions for almost a full year after making an initial offer in November 2012.
"The unions remain divided and the time has come to apply the deal."
Mr Hendry added: "I am particularly pleased with the ground-breaking award of a living wage of £7.50 per hour in 2013/14, which will deliver real benefits for employees at the lower end of the pay scale, and an agreement to match the recommended figure due next month from the Living Wage Foundation for 2014/15, which will see a further living wage increase for the lowest paid."
'Unnecessary delay'
The pay deal does not apply to teachers.
Earlier this week the largest teachers' union, the EIS, rejected changes to their terms and conditions of employment. The pay deal was conditional on accepting these changes.
Mr Hendry continued: "It is deeply frustrating for me that I am not in a position to announce a pay increase at this time for our teaching workforce.
"The decision by the EIS not to agree a deal has resulted in what we believe is an unnecessary delay.
"Talks will continue in November which we hope will also bring this matter to a conclusion."