Scottish independence: Pension provision 'lacks clarity'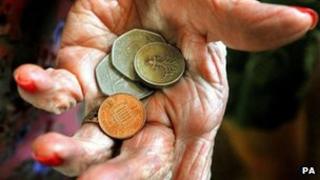 Debate about pension provision in an independent Scotland still lacks clarity in key areas, according to a professional body.
European status and what currency would be used were among the main issues at stake, the Institute and Faculty of Actuaries (IFoA) suggested.
The Scottish government published a paper last month on pensions, if independence is backed.
It said the basic state pension would still be paid "on time and in full".
The document added that from 2016 new pensioners would be given £160 a week - making them £1.10 better off than those in the rest of the UK.
The people of Scotland will vote in the Scottish independence referendum on 18 September next year.
They will be asked the straight "yes/no" question: "Should Scotland be an independent country."
Martin Potter, leader of the Scottish board at IFoA, said: "Scotland becoming an independent country would have a significant impact on financial services, including pensions and insurance, the regulation of the sector and its future growth.
"As an independent professional body with a Royal Charter, the IFoA has a public-interest duty to uphold.
"In raising questions that it believes to be pertinent, the IFoA looks to serve the public interest by informing the debate on these important issues ahead of next September's referendum.
"Whether a referendum results in an independent Scotland or not, it is right that discussion about how change could affect Scotland happens now.
"Across the sector, we are still limited by the lack of clarity to date on the status of an independent Scotland in relation to the EU and the many financial implications of that uncertainty, all of which need to be considered."
The paper looks at challenges facing financial services and at cross-border schemes, raising concern about the future of underfunded pension plans.
Definitive view
In April, the Institute of Chartered Accountants of Scotland said changes to pension rules with Scottish independence could force substantial costs on employers with unfunded schemes.
European directives mean UK-wide schemes would be deemed "cross-border" and need to be fully funded, the body said.
The reported stated: "This is as important a subject for rUK (the rest of the UK) as it is for Scotland.
"Many employers based in rUK have Scottish employees. For those companies and their staff, a definitive view on this matter would be very welcome. As such, the matters highlighted within this section would apply to all post-independence cross-border schemes."