Corroboration 'must go' to achieve justice, MacAskill insists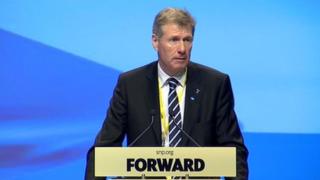 Scotland's justice secretary has voiced his determination to get rid of the need for evidence in criminal trials to come from two sources.
Kenny MacAskill told the SNP conference dropping the centuries-old requirement for corroboration meant people would no longer have to suffer in silence.
Sections of the legal profession oppose the move and the SNP's Christine Grahame has urged caution.
But Mr MacAskill said criminal law had to be brought into the 21st Century.
'Historic anomaly'
Proposals to drop the general requirement for corroboration are part of a series of justice reforms which have been put forward by the Scottish government.
Supporters say the plan could improve conviction rates in areas such as sex crime and domestic abuse cases.
But opponents argue corroboration provides an important safeguard against miscarriages of justice.
Addressing delegates in Perth, Mr MacAskill said: "We need to address the historic anomaly of the routine requirement for corroboration.
"Those who suffer rape and other serious sexual assault are denied justice by it.
"But it's not just the victims of these horrendous sexual crimes, but many others, whether children or the elderly - crimes committed without eyewitnesses."
The justice secretary went on: "Of the latest shameful statistics on domestic abuse, 10% of crimes reported to the Crown couldn't be prosecuted because of the lack of corroboration.
"And those were only the ones the police reported - many others didn't even make it to the fiscal's office as they knew the Crown couldn't pursue them."
Mr MacAskill said the abolition of corroboration would come hand-in-hand with additional safeguards including a "qualitative and quantitive" test for prosecutions and increasing the majority required by juries for a conviction.
He said: "Justice there must be and corroboration must go."
Ms Grahame, convener of the Scottish Parliament's cross-party justice committee, which is scrutinising the government's proposals, has warned any changes must be for the benefit of the complainer and accused, not because they are "politically popular".