SNP conference 2013: Salmond makes the case for 'Yes'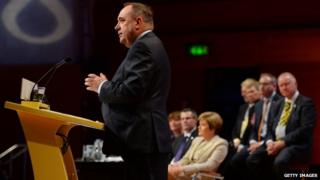 Alex Salmond may have lost a few pounds (he is apparently on the same diet as Beyonce.)
However, our newly svelte FM has plainly lost none of his comic timing. The gags themselves were modestly droll but the delivery was impeccable.
Admittedly, it was scarcely a tough house. No sense here of the Glasgow Empire on a wet Thursday. They were ready to laugh, they were ready to applaud, they were more than ready to cheer. And they duly did all three.
There was, of course, substance too: not least the date on which the White Paper will emerge. This document will form the prospectus upon which people in Scotland will be voting (although, as the UK government points out, independence would require negotiation beyond a Yes vote, plus a Bill through Westminster.)
Along with the publication date, we learned a little more about that White Paper.
It will have two sections....
The first setting out the proposed structure of an independent Scotland - its written constitution, its retention of the monarchy, its planned membership of the European Union and Nato.
The second will set out what Alex Salmond called "the why of independence" - the policies which might be pursued should the SNP be in charge.
Mr Salmond said the aim would be to create both a prosperous country and a just society. And certainly he stressed the importance of enterprise, the need to compete globally.
But the substance of his address was weighted towards egalitarianism. For example, the major announcement was about potentially enhancing the minimum wage. In part, this matches the Scottish mood which is traditionally more communitarian.
But there is a pragmatic purpose too. For Alex Salmond to secure a Yes vote in the referendum, he needs to recruit votes from the dispossessed and struggling, from Labour voters and those disenchanted with politics entirely. Hence this pitch.
On which, one might note the debate earlier today in which delegates agreed to examine the economic proposals contained in the Common Weal paper published by the Jimmy Reid Foundation. The resolution as amended noted that an independent Scotland "may wish to adopt" these proposals.
As with other resolutions, this was carried by acclaim. I gather that there had been an expectation that someone would challenge this, suggesting at the very least that the resolution might be remitted. The advice, apparently, was that this would simply provoke division - and draw more attention to the issue than was thought to be warranted.
To be clear - and this was stressed by speakers in the debate - the Common Weal prospectus is not SNP policy. However, examination of its content with a view to possible adoption is now a declared party objective.
Those who are interested can read the full detail on the Foundation's own website. But, in essence, it argues for a Nordic approach to the economy and social policy: including an emphasis upon equality, the prospect of public ownership where justified and a higher percentage of GDP taken in tax (although it is noted further that wages overall might be higher, resulting in a net gain in living standards.)
When I interviewed Angus Robertson for our conference webcast, he was keen to talk about Nordic egalitarianism but preferred to emphasise economic growth rather than higher taxation. Memories perhaps of a "Penny for Scotland", the previous SNP proposal to use Holyrood's Tartan Tax power which failed to enthuse the electorate.
More of which later as the White Paper emerges.
Back to Alex Salmond's speech. This was a potent performance by an experienced politician on form. It was well timed. Well structured. It featured the now familiar syllogism: Holyrood has produced devolved policies in tune with Scotland; by contrast, Westminster generates policies out of synch with Scottish thinking; turn to full independence.
Mr Salmond's opponents, of course, say that is logically fallacious. That there is no automatic read-through from devolution to independence, that the Union remains valid and valuable.
On to the White Paper. On to the referendum.