Scotland to create 'buffer zones' for shale gas and onshore oil extraction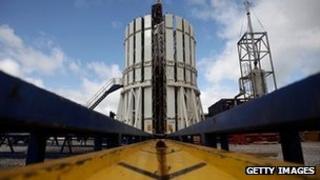 Planning rules governing the extraction of shale gas and onshore oil in Scotland will be made tougher, the Scottish government has said.
It believes there should be reinforced protection for communities near sites of new energy sources, including the controversial fracking method.
Climate Change Minister Paul Wheelhouse also said he wanted to see buffer zones between sites and settlements.
The new planning policy will come into force next year.
Environmental campaigners have welcomed the changes, describing them as a "setback" for firms hoping to extract shale gas.
Mr Wheelhouse made the announcement at the SNP conference in Perth.
'Environmental permissions'
He said: "Any proposals for the extraction of unconventional oil and gas extraction are considered through the planning process and the appropriate regulatory regimes.
"In considering such proposals it is important that the views of the local communities, and the impact on the environment are given due consideration in the planning process.
"Today's announcement of a strengthening of the planning rules in relation to unconventional oil and gas, through provision of buffer zones, highlights that this government listens to local communities and the those calling for stronger environmental protection."
He added that there were no "environmental permissions" at the current time which would allow hydraulic fracturing in Scotland.
WWF Scotland director Lang Banks said: "This is without doubt a setback for those hoping to exploit shale gas in Scotland.
"We welcome this commitment and hope it is just the first of several steps ministers will take to begin to close the door on all new fossil fuels developments in Scotland.
"In the interests of tackling climate change and delivering climate justice we urgently need to be leaving fossil fuels, including shale gas, in the ground."