Benefit changes rent arrears amnesty 'would need caution'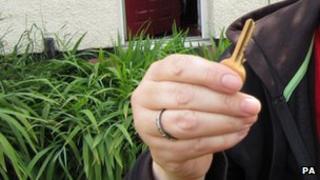 Any rent arrears amnesty as part of efforts to mitigate changes to the welfare system should be approached with caution, an economist has said.
Professor Kenneth Gibb told MSPs tenants deemed to have spare bedrooms, who have housing benefit cut, should continue to receive financial support.
But he said further study was needed before accepting any "blanket forgiveness" of rent arrears.
The benefit changes, dubbed the bedroom tax, form part of a revamped system.
Under the new housing rules, 14% will be deducted from housing benefit for one "spare" bedroom and a quarter for two or more.
Tenant hardship
Prof Gibb, a director of the Centre for Public Policy and professor in housing economics at Glasgow University, has compiled a report for Holyrood's Welfare Reform Committee.
He believes Discretionary housing payments (DHPs), money set aside by the UK government for those struggling with benefit cuts, should continue at close to its current level, particularly in the next year.
Dr Gibb said: "Arrears associated with the 'bedroom tax' are worrying, though we do not yet know their absolute values. DHP has grown massively in value and significance and its continuity is now a key issue in terms of managing tenant hardship in future years.
"DHP and linked support from councils and the Scottish government has been critically important in many places and its uncertain future underscores its importance to managing the under-occupation charge in future years. Single people and those with illness and disability are principally exposed.
"Securing the continuity of DHP at something approaching present levels of funding, especially for the next year, is critical.
"Arrears arising from the 'bedroom tax' need to be clearly understood, and their relationship with other rent arrears, but caution should be exercised and further consultation should take place before considering blanket forgiveness of such arrears."
Basic rights
Tenants are faced with either taking the benefit cut, moving in a lodger or moving out to a smaller property if available, but Prof Gibb found tenants were "resistant to downsizing" and that there was also a shortage of one-bedroom properties.
Labour MSP Michael McMahon, convener of the committee, said: "No policy should put such basic rights at risk. The UK government must answer how it intends to square that circle."
Deputy convener Jamie Hepburn, an SNP MSP, said: "Whilst there is some comfort in seeing that DHPs are doing a lot to solve this problem, there is the worry that the next wave of welfare reform, universal credit, personal independence payments, 1% benefit increases and so on, will reduce incomes and make matters even worse."
Conservative MSP Alex Johnstone, the only committee member from a UK coalition party, said: "This report is so politically skewed it almost discredits itself."