SNP conference: Minister Lochhead says fishing sector to gain post Yes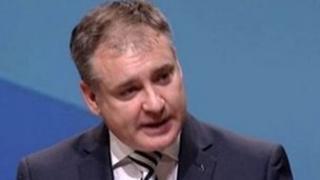 Scotland's Environment Secretary Richard Lochhead has insisted the country's fishing industry would be stronger under independence.
In a speech to the SNP conference in Perth, the minister said Scotland's fishing communities would be regarded as "invaluable" not "expendable".
He claimed Westminster had left the sector with an "abysmal legacy".
The people of Scotland will vote in an independence referendum on Thursday, 18 September, next year.
They will be asked the straight "yes/no" question: "Should Scotland be an independent country?"
Mr Lochhead said: "Our fishing industry has suffered more than most under Westminster rule. But under independence it has much to gain."
He said the sector would be protected by an independent parliament and "not traded away" by Westminster.
On other environmental matters, Mr Lochhead said the government had pledged to look at the case for the right-to-buy for tenant farmers on secure tenancies.
He reiterated the pledge to put major investment into "digital connectivity".
Mr Lochhead said of the Scottish government's plans: "This is all part of the SNP's long term vision of making rural disadvantage a redundant phrase.
"But so much more would be possible if we had the necessary powers in our parliament to deliver our vision."
He added: "In Scotland, we have the priorities, but not the powers. The UK has the powers, but not the priorities.
"Imagine the difference we could make if our people had the powers to deal with the issues they most care about."