SNP conference: John Swinney says independence 'will protect needy'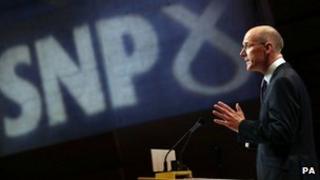 Finance Secretary John Swinney has told the SNP conference Scotland has to have independence to protect the needy.
He insisted it was also necessary in order to guarantee control of the economic levers of power.
Mr Swinney described as "dreadful" Westminster's reforms to welfare, which are referred to by critics as the "bedroom tax".
The minister said an independent Scotland would support vulnerable people and not vilify them.
The people of Scotland vote in a referendum on Thursday, 18 September, 2014, when they will be asked the straight "yes/no" question: "Should Scotland be an independent country?"
Mr Swinney told the party faithful that the debate over Scotland's wealth had been won.
He added that the Scottish economy was growing faster than the rest of the UK at 1.8%, compared with 1.3% for the rest of the UK.
Mr Swinney said unemployment was lower and employment higher in Scotland than the rest of the UK and claimed Scots paid more in taxes per head of population than the rest of the UK.
The minister added that just as the Scottish government had taken decisions on the economy with the country's interests at heart, it would like to take more decisions on welfare and employment with Scotland's interests at heart.
Mr Swinney explained: "We need the powers of independence because Westminster's welfare reforms and the failing Work Programme are only serving to increase the pressure on our services and present more difficulties to those we are seeking to support.
"Where our apprenticeship programme has a success rate of over two thirds, the Work Programme sends two-thirds of people back to the job centre.
"Where we are providing funding to support those being harmed by welfare reform, Westminster is using welfare cuts as a punishment for the vulnerable.
"Let me be clear conference, those who can work should work and it is our ambition to ensure that there are opportunities for all in Scotland - of any age and any ability to work.
"But let me also be clear that in an independent Scotland we will help our young people into work not humiliate them and we will support our vulnerable people not vilify them."