SNP conference: Hyslop announces £2m fund to aid Scottish film sector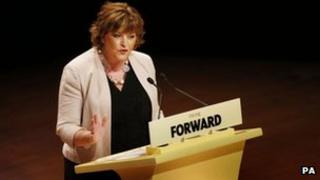 The Scottish government is setting up a £2m loan fund to assist the film and television production sector.
The announcement was made by Culture Secretary Fiona Hyslop at the SNP conference in Perth.
The cash would be used to "develop proposals for new film and TV production facilities in Scotland".
Ms Hyslop also told delegates that a new youth arts strategy would be set out by the Scottish government in the next few weeks.
In her address on Thursday, she said: "Scotland is already competing as a location on the international stage and demand from film and television companies continues to grow apace.
"Scotland's unique scenery, heritage locations and excellent crews are already providing a strong draw for producers.
"I am delighted to announce the Scottish government will establish a £2m loan fund to support the long-term development of production infrastructure for commercial film and television in Scotland."
The cash would be used by the film studio delivery group, set up by the government and which involves Creative Scotland and enterprise agency Scottish Enterprise.
Ms Hyslop said the youth arts strategy would lead to "exciting new facilities and opportunities" for young people in Scotland.