NHS needs long-term spending focus, says Audit Scotland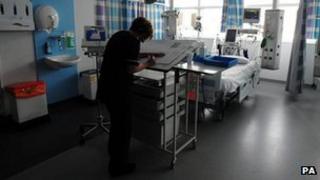 The Scottish NHS needs to focus on its long term financial plans to meet the significant challenges ahead, the public spending watchdog has said.
Audit Scotland said the health service had to take heed of tighter budgets and a rising demand for services.
Despite the warning, Audit Scotland praised the financial performance of Scotland's health authorities in the last year.
Scottish ministers said they were committed to protecting NHS spending.
Opposition politicians said the health service was operating on a "hand-to-mouth basis".
The health service spends more than £10bn over the year - almost a third of the total Scottish budget.
It ended the 2012-13 year with a £16.9m surplus and savings worth about £270m - and boards will need to identify savings of £268m to break even this year.
Publishing her findings in a new report, Auditor General Caroline Gardner said: "The health service needs to increase its focus on longer-term financial planning so that it is prepared for the challenges it faces.
"While budgets are getting tighter, demand for healthcare is rising due to an ageing population, more people with long-term conditions and the impact of factors such as increasing rates of obesity.
"This presents significant challenges for the NHS boards delivering services both now and in the longer term."
Health Secretary Alex Neil said: "Despite increasing budgets it is right that the NHS is as efficient as possible with taxpayers' money which is why we have asked boards to make savings.
"I want to be very clear that these savings are not a reduction in budget - all money saved will be reinvested in frontline services. This improves the quality of care patients receive."
But Labour health spokesman Neil Findlay said hospitals were struggling to cope with cuts to nursing staff, adding: "This report confirms everything we've been saying for the last few months about the increasing build-up of pressure across health boards because of SNP cuts.
"Audit Scotland have reinforced the need for an immediate review of the NHS so we can come up with a long-term plan that will support hard-pressed staff and ensure patients are properly cared for."
'Unenviable task'
Liberal Democrat health spokesperson Jim Hume, added: "Under the SNP our health service has been operating on a hand-to-mouth basis.
"This report shows that the SNP's erratic approach of decreasing and increasing nurse numbers, stumbling from one crisis to another and cutting capacity without creating effective care in the community is leaving health boards fighting increasing pressures with one arm tied behind its back."
Scottish Conservative health spokesman Jackson Carlaw said: "Most health boards haven't managed their target for recurring savings, and these are the ones which - over time - will make the real impact.
"This is despite the fact the Scottish government has slashed nursing numbers so drastically that millions has had to be spent on expensive bank and agency workers."
Dr Brian Keighley, chairman of the BMA in Scotland, said: "NHS managers have the unenviable task of managing shrinking budgets whilst trying to achieve a range of annual targets, outcomes and performance standards that are set by government.
"This can leave boards focusing on planning services for the short term; making savings from easy targets such as the workforce.
"This is not sustainable and the BMA welcomes Audit Scotland's recommendation to introduce structures that encourage longer term planning for NHS boards."