Glasgow Prestwick Airport can make profit, says Sturgeon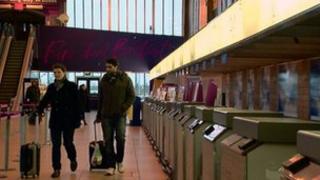 Prestwick Airport can be profitable if the right approach is taken, the deputy first minister has said.
The Scottish government announced at Holyrood on Tuesday it was negotiating to buy the airport.
The Ayrshire facility, which was put up for sale last March by New Zealand-based owners Infratil, has been running annual losses of £2m.
Nicola Sturgeon said she believed that "over time" Prestwick could go "back to profit".
A six-week timetable of detailed negotiations has now begun with Infratil.
Ms Sturgeon told BBC Radio Scotland's Good Morning Scotland programme: "We are embarking on commercial negotiations with the current owners of the airport so things like purchase price for the airport will require to be resolved in terms of the negotiation."
The minister defended the government's decision to step in to buy the airport, saying it was the "only realistic alternative to closure".
She explained that, once the airport was in public ownership, there would be a detailed business case made that would include levels of investment and a timescale on turning around its fortunes.
Ms Sturgeon added: "With the right financial investment, with the right commercial management, the right marketing over a period of time, Prestwick can be brought back into profit."
The Scottish government's bid to buy Prestwick comes just months after struggling Cardiff Airport was sold to the Welsh government for £52m.
Although publicly owned, Cardiff Airport is being managed by an "at arm's length" body rather than by the government, and "on a commercial basis".
In a ministerial statement to the Scottish Parliament, Ms Sturgeon said the closure of Prestwick would be a "serious and unwelcome development" for the Ayrshire and Scottish economies, with about 1,400 jobs linked directly or indirectly with the airport.
Infratil has agreed to ensure the airport is kept fully open and operational during the negotiation process with the government.
The only scheduled passenger airline at Prestwick, Ryanair, welcomed the likely government takeover.