Scottish Health Secretary Alex Neil announces new drug approval revamp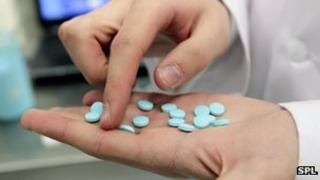 More people will soon have access to new and expensive medicines, according to the Scottish government.
Health Secretary Alex Neil has told the Scottish Medicines Consortium to be more flexible when evaluating drugs.
Mr Neil said there should be a new approach for medicines to be used in end-of-life care and for treating very rare conditions.
The changes are the first step in a wider process which will look at how medicines are evaluated.
Mr Neil's announcement came on the day a new treatment for lung cancer was approved by the SMC but a breast cancer drug will not routinely be made available in the NHS in Scotland.
The decision to accept the drug crizotinib, which could be an alternative to chemotherapy for some lung cancer patients, means Scotland is currently the only part of the UK to approve the drug for use on the NHS.
But at the same time the SMC ruled that new breast cancer drug - Perjeta - will not be recommended for use.
Drugs manufacturer Roche said patients with the HER2 positive breast cancer taking Perjeta lived on average just over six months longer without their disease getting worse than those treated with Herceptin or chemotherapy alone.
Routinely available
The Scottish government, which has no direct involvement in SMC decisions, is keen to make the process more transparent.
Announcing his plans to revamp the system, Mr Neil extended a special fund to pay for new medicines until 2016.
He also created a new approval system for doctors who want to prescribe drugs which are not routinely available.
Mr Neil said: "It is only right that Scottish patients have access to medicines that are clinically justified.
"We have listened carefully to patients, charities and consultants and put in place a comprehensive range of measures which will increase access to new medicines and make the system better and more open for patients."
Professor Angela Timoney, chair of the Scottish Medicines Consortium, said: "We share the Scottish government's objective of increasing access to new medicines for patients in Scotland."