Lib Dem reshuffle: No room for sentiment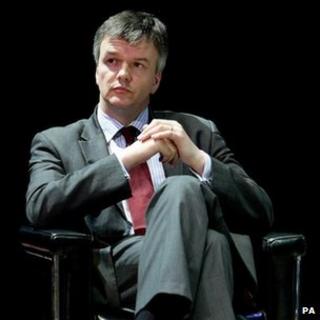 As countless have discovered down the years, there is minimal room for sentiment in politics.
However, Michael Moore of the Liberal Democrats may be entitled to feel a little less than gruntled today.
He was surprised and disappointed to be passed over in the initial round of coalition ministerial appointments, only to appear as Scottish Secretary when Danny Alexander was translated to a more senior post following a bout of the customary alarums and excursions which pursue politicians.
By general consensus, Mike Moore has been a success in that post, not least in securing the terms for the referendum in negotiations with the Scottish government.
He kept his head, he kept his focus, he worked diligently - and a result emerged which satisfied both sides.
Further, he steered the Scotland Act past Cabinet colleagues and the Commons (it fell to Lord Wallace to tackle the truculent Lords.) As that Act takes effect, Holyrood's devolved powers will be enhanced.
In short, he has occupied the post of Scottish Secretary at the very moment it ceased to be a potential sinecure - and occupied that post with effect.
And yet now he is sacked - and replaced by Alistair Carmichael, another eminently capable minister. And why? Not for what Michael Moore has done - but for what lies ahead.
It is frequently the case that a particular individual is needed for one task - only to be obliged to relinquish office when the challenge changes.
For example, George Robertson dealt effectively with the huge trials of devolution policy while Labour was in opposition. Donald Dewar resumed command of Scottish affairs in government. (Mind you, George was very substantially compensated by being appointed Defence Secretary. He later, of course, headed NATO while taking a seat in the Lords.)
There is no such immediate compensation for Mike Moore. Merely the gratitude of his colleagues, together with the hint of a future role in government. So, again, why?
Because the issue of Scottish independence is not just one item in the Whitehall in-tray. Alongside the security of the realm, it is regarded as the biggest structural challenge confronting the UK government. It is being taken very seriously indeed, with considerable resources deployed, both ministerial and civil service.
It is felt, frankly, that a harder, tougher approach will be needed in the run-up to the September 18 poll than that potentially on offer from Michael Moore. Enter Alistair Carmichael, the MP for Orkney and Shetland with a secure reputation as a combative Lib Dem Chief Whip - a role where the incumbents develop a propensity for getting their own way.
I think there is a further element here. As the referendum combat develops, the UK government will be keen to take a palpably leading role in the campaign, while acknowledging that Better Together is headed by Labour's Alistair Darling.
Such a role for the UKG could, of course, be played by the Prime Minister. But Team Cameron are only too aware that a Tory MP from an English constituency, representing a party with very limited support north of the Border, may not be best placed to attract Scottish endorsement.
Plus, of course, the more prominent the role adopted by David Cameron, the greater will be the clamour for him to debate directly with Alex Salmond. Which Team Cameron dislike for the reason cited in the preceding paragraph.
So, again, enter Alistair Carmichael. Alongside his tough reputation, he has a dry wit and a cool head. He'll need all three.