Scottish Green Party conference: Harvie calls for 'radical' vision of independence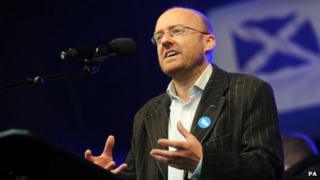 The Scottish Greens could play a key role in convincing Scots to vote for independence in next year's referendum, the party's conference has been told.
Co-convener Patrick Harvie said "canny" voters would not be persuaded into voting Yes next September with "flags, bribes or fearmongering".
He said Scots could be won over with a "radical vision" of what the country could be like after leaving the UK.
Mr Harvie was speaking as the two-day conference opened in Inverness.
The people of Scotland will be asked the straight yes/no question "Should Scotland be an independent country?" when they vote in the independence referendum on 18 September 2014.
At last year's conference members voted to endorse the cross-party Yes Scotland campaign for independence.
At the same time the party agreed to form its own pro-independence campaign, designed to promote its distinct policies.
Mr Harvie, one of the Greens' two MSPs at Holyrood, said: "Many Scots remain undecided on independence and they have every right to take their time, as creating a new country is undoubtedly a radical step.
"These canny voters won't be persuaded by flags, bribes or fearmongering but I believe they will respond to a radical vision for a better Scotland and the Scottish Greens are crucial to outlining that vision.
"Taking responsibility and bringing power closer to the people is a core Green principle, and our conference is a chance for us to galvanise our party and amplify our message."
'Seize the day'
He added: "This is a big decision about Scotland's long-term future.
"As Greens we're used to thinking big and it's in our DNA to think ahead, so let's seize the day."
Mr Harvie argued that at this time the "Green vision for Scotland has never been more important", adding that his party offered "the vision of a renewed economy that works for the many rather than the few and a sustainable society that cares about future generations".
He said: "The clock is ticking on the need to tackle climate change and a Green Scotland would be better placed to develop the low-carbon society we need."