Senior figures hit Dunfermline by-election trail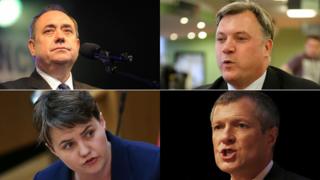 Shadow chancellor Ed Balls has criticised SNP plans to keep the pound in an independent Scotland, as he hit the by-election trail in Dunfermline.
But also campaigning in the Fife town, Scottish First Minister Alex Salmond said Sterling belonged as much to Scotland as the rest of the UK.
The Tory and Lib Dem leaders, Ruth Davidson and Willie Rennie, said Scotland was better off in the UK.
The by-election is being held after the resignation of sitting MSP Bill Walker.
The former independent member was jailed for a year after being convicted for assaults on three ex-wives and a step-daughter.
He was elected for the SNP in 2011, but thrown out of the party when the charges came to light.
Hitting the campaign trail and speaking ahead of next year's independence referendum, Mr Balls said the rest of the UK wanted Scotland to remain part of it.
In the event of a "yes" vote, the Scottish government wants to keep the pound and retain the services of the Bank of England under a currency zone.
'Fresh start'
But the shadow chancellor said: "The idea that Scotland could simply keep the pound - that would mean restrictions on budget policy, on interest rates, on financial regulation which would be very hard for Scotland - the idea that the rest of the UK would sign up to a Euro-style gamble on a Sterling zone, I don't think that is very likely."
Mr Salmond officially launched the SNP's by-election campaign by setting out the party's record in government.
He highlighted the council tax freeze and the SNP's commitment to maintaining universal benefits.
Responding to Mr Balls' comments about currency in an independent Scotland, the first minister said: "We think sharing the pound, which is as much our pound - Scotland's pound - as Ed Balls' pound, is in the interests of Scotland, but it's also overwhelmingly in the interests of the rest of the UK and that's what will prevail after a 'Yes' vote in the referendum."
Meanwhile, Scottish Liberal Democrat leader Mr Rennie, who was campaigning for local jobs in Dunfermline, added: "The best way to get the best bits of the United Kingdom is to stay entrenched in the United Kingdom - the idea that you can somehow leave, but still benefit from all the good bits is nonsense."
And Scottish Conservative leader Ms Davidson, who called for a "fresh start" in the town after the Bill Walker saga, said: "Alex Salmond's pronouncement about just taking the pound after having been a flag-waver for the Euro for so many years is another example of his 'say anything, do anything, promise anything for a coupe more votes' approach."
Voters go to the polls on 24 October to elect one of seven candidates as MSP for Dunfermline.