Warhol exhibition opens at Scottish Parliament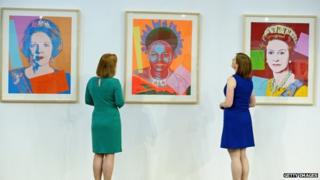 An Andy Warhol exhibition has opened at Holyrood - the first exhibition of the artist's work to take place in a parliamentary building.
Andy Warhol: Pop, Power and Politics includes a number of iconic works that have never been shown in Scotland.
The exhibition is a result of a collaboration between the Scottish Parliament, the Carnegie UK Trust and the Andy Warhol Museum in Pittsburgh.
It coincides with a week of events celebrating Andrew Carnegie's legacy.
The Andrew Carnegie's International Legacy: Shaping the Future festival celebrates the Scottish philanthropist and the centenary of the formation of the Carnegie UK Trust.
The Warhol exhibition features portraits of Carnegie, as well as Lenin, Chairman Mao and The Queen.
Presiding Officer Tricia Marwick said: "It gives me real pleasure to open this exhibition of iconic images, depicting politicians and political events from across the globe.
"It is important to me that the Scottish Parliament hosts exhibitions that encourage people to discuss and explore political issues, and few artists can get people talking like Warhol does."
In association with the exhibition, two portraits of Andy Warhol taken by Scottish photographer Harry Benson, will be on loan to the Parliament Art Collection and displayed in the UK for the first time.
A number of works made by Warhol for political and environmental campaigns are also being loaned from Artist Rooms, jointly owned and managed by Tate and National Galleries of Scotland.
Angus Hogg, chairman of the Carnegie UK Trust, said: "Andy Warhol holds a special place in our hearts at Carnegie, not only because the trust has a long history of promoting access to arts and culture, but also because Warhol received his first formal training in art through free classes offered by the Carnegie Institute in Pittsburgh.
"As many will already know, Andrew Carnegie envisioned a world of peace, well-being and opportunity, and this sentiment still rings true over 100 years on.
"This collaborative exhibition, which kicks off a celebration of Andrew Carnegie's legacy, provides a once-in-a-lifetime chance for the public to get an up-close look to some of society's most impactful pieces of art."
Matt Wrbican, chief archivist at the Andy Warhol Museum in Pittsburgh, said: "The Warhol is thrilled to share many truly exceptional works from our collection with the Scottish Parliament and the Carnegie UK Trust.
"The items represent the full scope of Andy Warhol's life and art. This exhibition features Warhol paintings, sculptures, and prints from our permanent collection and allows visitors to the stunning parliament building to have the opportunity to see many top-rate original Warhols.
"In addition, we're pleased to once again unite Pittsburgh and Scotland through the very rare display of Warhol's Andrew Carnegie portrait."
The Andy Warhol exhibition will run from 5 October to 3 November.