Cancelled Glasgow Airport Link project costs £29m so far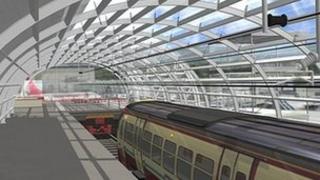 Scottish Labour has asked the SNP government to say why an "astonishing" £29m has been spent on the Glasgow Airport Link which has been cancelled.
Ministers decided not to go ahead with the project in 2009.
However, millions have been spent so far on land, compensation and other costs.
Transport Minister Keith Brown admitted the final expenditure could exceed £30m, but that would be £3m less than previously forecast.
A government spokesman said that the costs had been "in the public domain for years".
The £300m rail project linking the city of Glasgow to the Renfrewshire airport promised to improve the surrounding economy and the journey experience of passengers.
Scottish Labour's infrastructure spokesman, James Kelly, said: "This is an astonishing waste of our money and exposes the financial lunacy of cancelling a rail link which was supported by the business community as a boost to the economy.
"It begs the question why was the Scottish government so keen to get rid of the land given the huge losses it has incurred.
"Surely as a country we have an aspiration to link our biggest city and our biggest airport - why did they not hold on to the land so it could built in future instead of pursuing a scorched earth policy?
"The Scottish government has serious questions to answer about this colossal waste of money and the way this project was handled."
The government spokesman explained that about £176m of capital expenditure had been saved as a result of the Scottish government's decision not to proceed with the branch line element of the Glasgow Airport Link (GARL).
He added: "Since the cancellation of GARL, routes along the Paisley line have benefited from £230m investment in rail infrastructure improvements alongside a new £430m fleet of Class 380 trains now operating in Ayrshire and Inverclyde."
Scottish Labour leader Johann Lamont raised questions relating to GARL at First minister's Questions on 12 September.
She said that in 2008, £840,000 in taxpayers' cash was used to buy land near the airport which was owned by businessman John McGlynn. It was later sold back to him for £50,000.
Mr Salmond insisted ministers had had no role in land transactions. He also accused the Labour leader of peddling "unfounded smears".
Mr McGlynn, chairman and founder of Airlink Group, said he had bought back the land at public auction, adding: "To suggest any impropriety I actually find offensive and it's just nonsense."