Bill 'protects' against UK welfare change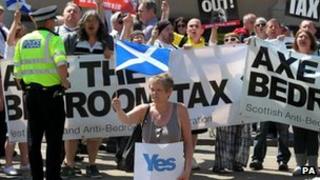 A Labour backbench bill which aims to protect people from UK-wide housing benefit changes has been lodged at the Scottish Parliament.
It aims to protect people who fall behind on their rent as a result of the withdrawal of the spare room subsidy from eviction.
Labour called on the Scottish government to back the bill.
But SNP ministers said they were already taking action against what critics call the bedroom tax.
Labour said the bill, brought by the party's social justice spokeswoman Jackie Baillie, was backed by organisations including the Govan Law Centre, the Church of Scotland and the STUC.
However, the Scottish Federation of Housing Associations said it was extremely concerned about the proposals, saying evictions were a "sparingly used but necessary ultimate sanction".
The Scottish government said it was providing funding under the limit of its devolved powers to mitigate against the welfare changes.
The UK government said the reforms were necessary to modernise the system and reduce the country's public spending deficit.