Complaints recorded against NHS in Scotland rise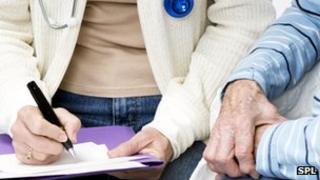 There has been a 13% rise in complaints against the NHS in Scotland, according to figures released by the Scottish government.
There were 9,161 complaints about hospital and community health services in 2012/13, compared to 8,117 in 2011/12.
There has been a reduction, however, in complaints about GPs and dentists.
Health Secretary Alex Neil has insisted the health service "does a fantastic job" for most patients.
Of the complaints received in 2012/13, 28% were fully upheld, 35% were partially upheld and 36% were not upheld.
The report records only 61% of the complaints were dealt with within the national target of 20 working days.
Fewer complaints were recorded in the category of family health services, with a reduction of 13% in complaints about doctors and 30% fewer complaints about dentists.
Mr Neil commented: "Our health service does a fantastic job in the overwhelming number of cases."
He added: "In an organisation of this size, care can sometimes fall below the standards we all demand.
"In those cases I want to encourage patients to give us feedback, whether good or bad, so that health boards can continually improve the care they provide.
"These statistics demonstrate this is happening."
Scottish Conservative health spokesman and deputy leader Jackson Carlaw said the government should not be allowed to "fob this increase off" by saying it was being made easier to complain.
He added: "The truth is the rising number of complaints comes against a backdrop of falling staff numbers and struggling hospital wards.
"Even though the health budget is protected, the SNP has slashed the number of nurses across Scotland, meaning those remaining have to pick up the slack.
"That has led to understaffing on wards, and the money the Scottish government thought it was saving being spent on agency and bank nurses to plug the gaps.
Labour's Richard Baker homed in on the rise of complaints for NHS Grampian.
He identified that the number stood at 976 in 2005/06 with 1,279 being recorded in 2012/13.
Mr Baker said: "These figures show what happens when SNP ministers do not fund our local health services properly and give our excellent local NHS staff the backing they need.
"Scottish Ministers claim to protect NHS services but these figures show the reality for patients."