Scottish independence: Post-Yes state pension would be paid 'on time and in full'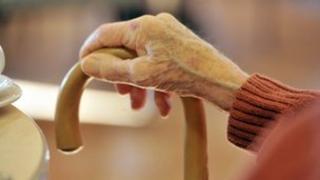 The basic state pension would continue to be paid "on time and in full" if Scotland were to vote for independence.
Scottish government ministers made the pledge as they revealed their blueprint for pensions post-Yes.
They also said that from 2016 new pensioners would be given £160 a week - making them £1.10 better off than those in the rest of the UK.
However, the UK government accused the SNP of not answering the difficult pension questions.
It said that nowhere in the paper was there a price tag for how much the new Scottish pensions system would cost people in Scotland.
State pension policy is currently under UK government control and plans are in the pipeline to increase the state pension age from 65 to 67.
Deputy First Minister Nicola Sturgeon announced that in the first year of an independent Scotland, an expert commission would be established to consider the appropriate level of the country's state pension age.
She said the Scottish government was "not persuaded" of the UK government's timetable to increase the pension age.
Ms Sturgeon added: "Successive UK government decisions have resulted in a pensions crisis. Independence will bring decision-making on pensions home to the Scottish Parliament and provide the opportunity to do things differently and better.
"As this comprehensive paper makes clear, we will build on the current system and make improvements where necessary.
"We are giving an absolute guarantee to those living in Scotland, in receipt of the UK state pension at the time of independence, that their pensions will continue to be paid in full and on time, as now."
The minister also said a new system in an independent Scotland would take the "best of the UK system" and build upon it.
Key points of the Scottish government paper include:
The basic state pension (BSP) would continue to be paid "on time and in full" and would be expected to be worth at least £118.60 in 2016/17
The value of the state pension would be protected - in the first term of an independent parliament - by the "triple lock" which means it would keep pace with earnings and rising costs
The Scottish single-tier pension would be introduced for new pensioners from 2016 and would be set at £160 per week. The equivalent UK-wide amount would be £158.90 in the same year
And the savings credit element of pension credit would be retained.
Scotland's Finance Secretary John Swinney said that the pensions system under independence would see people having the same level of protection as they currently receive from the Pension Protection Fund and the Financial Services Compensation Scheme.
A UK government spokesman said there were "glaring gaps" in the Scottish government's paper.
He added: "Costings and difficult questions are glossed over in the rush to make a 'guarantee' that pensions will still be paid on time.
"Pensions spending per head is currently higher in Scotland than the UK average, and in the future the independent ONS forecasts Scotland will have a larger proportion of elderly people than the UK.
"There is no avoiding this difficult fact which would see fewer working people in Scotland supporting more people receiving pensions."
'Vague promises'
Westminster's coalition government believed that by pooling tax revenues from a much larger working-age population as part of the UK a more secure and affordable pensions system could be provided.
It added that key questions had not been answered in the paper, including on issues such as:
Cross-border liabilities
Pension Protection Funds
Currency
And compensation arrangements.
Earlier, Labour's pensions spokesman, Gregg McClymont, told BBC Radio Scotland's Good Morning Scotland programme that "vague promises" had been made about the future, but the most difficult realities of an ageing Scottish society had not been faced.
After the pension plan was published, Mr McClymont said the Scottish government had failed to offer costings.
He added: "The credibility of this document is undermined by the SNP's false promises on state pensions and their broken promises on private pensions.
"Nicola Sturgeon earlier this morning couldn't say how much her pensions promise would cost despite asserting that it was affordable."
"This is basic stuff. She cannot credibly say that something is affordable if she doesn't know how much it costs."