Johann Lamont attacks 'cynical' SNP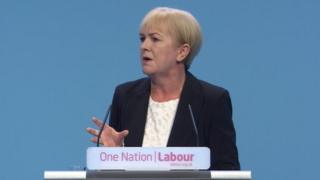 Scottish Labour leader Johann Lamont has used her speech at the party's annual conference to attack the "cynicism" of the Scottish government.
Ms Lamont said the SNP administration saw the austerity policies of the UK government as a "political opportunity" rather than an affront to families.
She told delegates in Brighton they would rather exploit people's misery than take measures to correct it.
Ms Lamont said she looked forward to independence being defeated next year.
The Scottish Labour leader said the SNP were behaving more like a "reckless opposition" than a responsible government, refusing to help people struggling because of UK Coalition welfare cuts.
"Content to ensure that all those who could be protected are not helped because that would show devolution working," she said.
"If they allowed devolution to do what it is meant to do they would not achieve their only real ambition to separate Scotland from the United Kingdom."
Corrodes politics
Ms Lamont added: "For the Nationalists, the misery of the people is not a wrong to be corrected, it is a chance to be exploited.
"For them grievance is not to be addressed, it is to be nurtured.
"That cynicism, that calculation, to leave families suffering now as a price worth paying if it translates into votes next September.
"It is a cynicism which corrodes our politics."
She said that in private the SNP questioned the affordability of pensions yet in public they "said what needed to be said to get them over the line".
Ms Lamont also attacked the Scottish government for creating too many "historic days" marking the run-up to the referendum on 18 September 2014.
She told conference: "I look forward to coming back after the historic day next year when Scotland renews its embrace of the United Kingdom and makes the politics of narrow nationalism a thing of history."
Meanwhile, Shadow Scottish Secretary Margaret Curran told her party's conference that Labour will not be broken up by Alex Salmond.
Ms Curran said that if the first minister got his way, an independent Scotland would ultimately mean the end the British Labour party.
She also claimed the SNP leader was putting the interests of his party ahead of those of the Scottish people.
Ms Curran said: "If the SNP have their way, their plan will mean the break-up of the British Labour Party after 113 years.
"I want to send a clear message from this conference: That after 113 years, Alex Salmond is not going to bring our movement to an end."