Scottish independence: People in Scotland 'could get pensions earlier'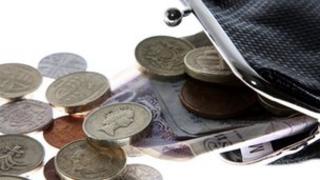 Independence could mean people in Scotland get state pensions earlier than the rest of the UK, Deputy First Minister Nicola Sturgeon has suggested.
A Scottish government paper will say the Scottish Parliament will determine the state pension age if there is a Yes vote in next September's referendum.
Ms Sturgeon argued the pension age should suit "Scottish circumstances".
UK officials said spending on pensions, benefits and public services was "all more affordable" as part of the UK.
State pension policy is currently under UK government control.
The age at which people can start to receive a pension is planned to rise to 66 for both men and women from 2018 and to 67 from 2026.
On Monday, a Scottish government paper called Pensions in an Independent Scotland will set out the arrangements for state, private and public sector pensions in the event of independence.
Ms Sturgeon said ministers at Holyrood were "concerned about Westminster's accelerated timetable for increasing the state pension age", claiming the increase to 67 had "significant implications for individuals".
She said: "Westminster changes fail to take into account the life expectancy differences between different socio-economic groups and between Scotland and the UK average.
"On average, people in Scotland have fewer years in retirement receiving the state pension than our counterparts in the UK because life expectancy is lower.
"That is an anomaly that needs to be tackled, and independence will also give us greater ability to do that.
"But in the meantime, it is important to ensure that Scots approaching retirement age are not unfairly disadvantaged."
Life expectancy in Scotland for males born this year is 2.5 years lower than the UK average and 1.8 years lower for females, according to ministers.
Pensions commission
Ms Sturgeon said a commission would be set up in the first year of an independent Scotland to consider "the appropriate pace of further change to the retirement age beyond 66, taking account of Scottish circumstances".
It would report to the Scottish Parliament within the first two years of independence.
A spokeswoman for the Department for Work and Pensions said: "Spending on pensions, on benefits and on public services is all more affordable as part of the UK.
"Everyone benefits from the same UK-wide welfare and pensions system, which treats people equally regardless of where they live.
"Pensions spending per head is already higher in Scotland than in the rest of the UK, and in future Scotland will have a higher proportion of elderly people.
"But by pooling our resources, we won't need to rely on volatile and declining North Sea revenues to pay the pensions of Scotland's elderly."
'Postcode pensions'
Labour's pension spokesman Gregg McClymont also said that the National Employers Savings Trust, a body that helps employers set up new pension schemes, considers Scottish Independence to be a "risk" for UK-wide pensions.
He said: "Leaving the United Kingdom would be costly and risky for pensions.
"Barely a day now goes by without the nationalists making promises without any plan to pay for them, but this latest suggestion on state pensions would cost Scotland £6bn."
Conservative finance spokesman Gavin Brown claimed the Scottish government appeared "to be considering postcode pensions".
He said: "It seems they would depend on where you live, and what socio-economic group the SNP thinks you belong to.
"The idea that your pension could depend on the label a government decides to give you is quite remarkable, and will require some explaining to the public.
In June, Finance Secretary John Swinney claimed senior citizens would have stronger pension safeguards than the UK if Scotland became independent.
John Swinney told a gathering in Glasgow that Scottish pensions would be fully protected after independence.
He said a single-tier state pension from 2016 would be uprated by whatever is higher - earnings growth, inflation or 2.5%.
Opposition parties questioned how Scotland would pay for pensions.