Dunfermline by-election: Conservative and Green candidates unveiled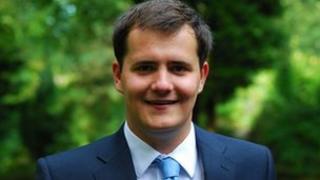 The Scottish Conservative candidate for the Dunfermline by-election has launched his campaign.
James Reekie, 22, lives and was raised in the town. He will be the only male candidate standing for any of the four main parties.
The Holyrood seat was vacated by Bill Walker, who has been jailed for 12 months after being convicted of 23 domestic abuse charges.
The by-election will be held on Thursday, 24 October.
Shirley-Anne Somerville will fight the seat for the Scottish National Party, while Scottish Labour's candidate will be Cara Hilton, and Susan Leslie has been selected by the Scottish Liberal Democrats.
Mr Reekie, who was also the Tory candidate for the seat at the 2011 Holyrood election, is in the process of setting up his own cider making business.
He has pledged to fight measures which have hampered businesses in the constituency.
Scottish Conservative leader Ruth Davidson said: "James is a fantastic, energetic candidate who would make a great MSP for Dunfermline."
Meanwhile, the Scottish Greens have unveiled 27-year-old Zara Kitson as their candidate for the by-election.
Ms Kitson is an organiser of So Say Scotland, a citizens' assembly inspired by constitutional innovation in Iceland, and is starting her own business, Dream Graft, to support other companies and communities going through change.
Ms Kitson said: "This is an extraordinary opportunity to get the Green message out in Dunfermline and to meet as many people as possible locally to discuss their aspirations for their community."
Former Dunfermline MSP Walker, 71, was convicted following a trial at Edinburgh Sheriff Court last month.
He initially refused to resign his seat, but later announced he was going following pressure from campaigners and MSPs.
The former SNP MSP, who was ejected from the party when the allegations surfaced, denied the abuse charges. He was jailed for the maximum 12 months on Friday morning.