Scottish independence: Salmond 'would reverse Royal Mail sale'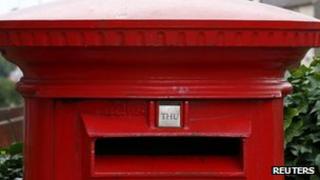 The privatisation of Royal Mail would be reversed in an independent Scotland, First Minister Alex Salmond has said.
The UK government wants to float the service on the London Stock Exchange to allow it to stay competitive.
But Mr Salmond said, in the event of a "Yes" vote in 2014, a post-independence government led by him would bring it back into public ownership.
The SNP government has, until now, declined to specifically state what it would do if the sale went ahead.
The first minister's confirmation came after sustained questioning from MSPs at the Scottish Parliament, sparking opposition accusations that he was making up "off-the-cuff", uncosted policy.
Responding to Tory MSP Gavin Brown during first minister's questions, Mr Salmond said: "An independent Scottish government that I lead - because it will be the decision of the Scottish people - will bring the Royal Mail, our postal service, back into public ownership."
His comments came the day after Scottish Finance Secretary John Swinney gave a less definitive answer to the question of whether the service would be re-nationalised under independence.
Mr Swinney told a BBC Scotland TV debate programme on Wednesday night: "What I don't know at this stage, which is why it's impossible to give a definitive answer about what condition the service would be in is exactly what shape it would be in as a consequence of privatisation - but my clear instinct is to retain postal services within the public sector."
Mr Salmond has already asked UK ministers to hold off on privatising the Royal Mail until after the Scottish referendum, on 18 September 2014.
Mr Brown, who called on the Scottish government to publish the costings of its policy, said: "I am not sure who was more astonished by the first minister's answer today - me or members of the Scottish Cabinet.
"Considering the answers given on air last night by his finance secretary, it would be interesting to know when the Scottish government settled on their current policy of re-nationalisation of Royal Mail."
Shadow business secretary Chuka Umunna has said Labour would not pledge to renationalise the Royal Mail, arguing that such move would be "completely irresponsible" and "like writing a blank cheque".
Scottish Labour MP Ian Murray, who speaks on postal affairs, said: "This is yet another off the cuff, uncosted promise by Alex Salmond.
"His finance minister, on TV just 16 hours before, said he could not commit to renationalisation as he would not know the shape or format of the Royal Mail post privatisation and how much it would cost."
The Westminster government said the sale was necessary to give Royal Mail the access to private capital it needed to grow.
But Scottish ministers said the move could have a serious impact on the Scottish economy and rural communities.
Employees at the postal service are being balloted for strike action by the Communication Workers Union.