Scottish independence: BBC debate on referendum choices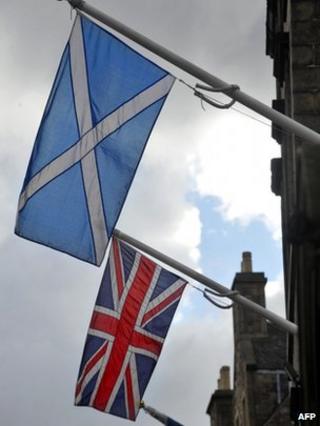 The independence referendum offers Scots a unique opportunity to decide the future of their country, a BBC Scotland debate has heard.
The debate between four leading politicians was held in front of a public audience in Inverness.
Finance Secretary John Swinney said independence would allow Scots to build a "fairer and more just society".
But Scottish Liberal Democrat leader Wille Rennie argued that the UK had been good for Scotland.
The other panellists appearing at the city's Culloden Academy were Scottish Liberal Democrat leader Willie Rennie, and Scottish Green co-convener Patrick Harvie.
The debate was broadcast on BBC1 Scotland at 21:00 on Wednesday - exactly one year and one hour before polls are due to close in the referendum.
The referendum will be held on Thursday, 18 September, 2014, with voters to be asked the straight yes/no question: "Should Scotland be an independent country?"
'Opportunity'
Responding to a question from Joanna Taylor, who asked how the panel believed her potential grandchildren and great-grandchildren would want her to vote, Mr Swinney, of the pro-independence SNP, said: "Your family should vote yes".
He added: "They should vote yes because this whole opportunity that unfolds for Scotland is essentially about the future of our country, and there are very few opportunities we have to design the nature and the character of the country that we live in.
"This is our opportunity in Scotland, and we have that opportunity in 12 months time to essentially tackle some the injustices that exist in our society.
"Today we live in the fourth most unequal country in the world in the United Kingdom, and amidst the wealth that we enjoy as a country - Scotland would be the eighth richest country in the world - I think we should put that wealth to work to create a much fairer and a much more just society that can create the best possible future for your grandchildren and your great-grandchildren."
Mr Rennie, whose Liberal Democrat party opposes independence, argued that the United Kingdom has been "good for Scotland, and good for us".
He added: "I think we should stay within the United Kingdom and I think that's what your grandchildren would want too.
"I think what the United Kingdom has brought for us is a National Health Service. A country that is so caring that it brings us the National Health Service is something that I want to remain part of, a country that is so strong economically that it can bail out the banks in a time of crisis is a country that I want to remain part of.
"And a country that is so compassionate that it has the second highest aid budget in the world is a country that I want to remain a part of, and I think your grandchildren would want that too."
'Globalised world'
The Scottish Tories are campaigning alongside Labour and the Liberal Democrats as part of the Better Together campaign in favour of remaining within the UK.
Addressing Ms Taylor directly, Ms Goldie said: "I think they would be saying to you 'look granny, we want you to keep your head on with all this, we want you to look at the issues as best you can, we want you to recognise we live in a globalised world, which we do, and we want you to weigh up the issues and try and work out what is better for Scotland.'
"I think is is very important to say this is not a debate about can Scotland be independent or not - Scotland theoretically can be independent - the debate is about which arrangement serves Scotland better, the partnership of the United Kingdom or going it alone and being independent."
Citing the UK government's £50bn bail out of the banks during the financial crisis, she added: "From my perspective, particularly in a globalised world, I think that the partnership like any good partnership helps to pool resources, helps to maximise influence on that global stage, and yes it does help to spread the word of the risk".
The Scottish Greens are campaigning in favour of independence alongside the SNP under the Yes Scotland banner.
'Business as usual'
Mr Harvie, the party's co-convener, said the banks had been bailed out to allow them to let them "carry on getting back to business as usual".
He continued: "The UK is now printing money not to invest in the things that our country needs, but to fuel more speculative investment and so on. We are getting back on the same treadmill, and an independent Scottish government could be using the same kind of techniques, like quantitative easing, but to invest in the things that Scotland needs.
"Now I think if you are asking yourself this question with the long-term in mind I think that is fantastic, and I think it is one of the reasons why some people are taking their time to make a decision about this and not feeling they have to be rushed into it. That is absolutely fine.
"In the Green Party we often ask people to ask about the long-term when we vote. The ecological challenges of climate change, of moving away from fossil fuels, that are going to be defining issues for your grandchildren's lives, the need to have an economic and a social model that does close the gap between rich and poor and doesn't allow the wealthiest people who have been benefitting from the current economic model, to hive off all their wealth in tax havens.
"I don't see how we can do it about that by voting no. I only think we can do something about that in Scotland by voting yes, and I fear that if we vote no next year - and it won't be until your grandchildren are your age, it will be another 10 years or so - that we look south of the border and say 'what happened to the welfare state'? There will be nothing left to save by that point."