Mock Scottish independence referendum sees Aberdeenshire 'no' vote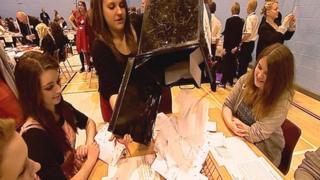 Aberdeenshire school pupils have voted against Scottish independence in a mock referendum.
A total of 8,718 voted no, with 2,847 voting yes, after the count was held at Meldrum Academy.
The referendum takes place in a year's time on 18 September, 2014.
Many of the teenagers will take part for real, with those aged 16 and 17 able to vote in the referendum.
When voters go to the polls they will be asked a straight yes/no question: "Should Scotland be an independent country?"