MSP expenses claims fall by £500,000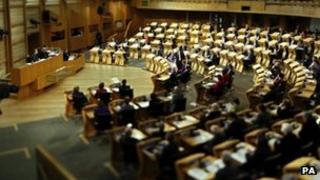 Expenses claims made by MSPs have fallen by more than half-a-million pounds in the last year, according to the latest official figures.
The total for 2012-13 came to £12,261,819, a decrease of £557,016.
Holyrood bosses said the fall reflected higher one-off costs during the Scottish Parliament election year in 2011 and an on-going pay freeze.
MSP Liam McArthur - who represents the far-flung Orkney constituency - had the highest bill, with claims of £46,931.
The public can look at the claims made by their local MSP through the Scottish Parliament's search facility.
A Scottish Parliament spokesman said: "The decrease in expenses of more than half-a-million pounds is a reflection of one-off election costs in the previous year, but also that 2012-13 represented year two of a two year pay and expenses freeze for MSPs."