Scottish independence: Economic case to be outlined with one year to go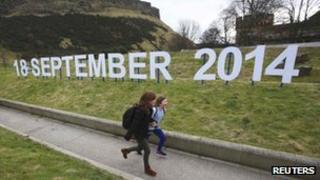 The Scottish government is to publish analysis of the key economic issues of the referendum debate ahead of its white paper on independence.
Deputy First minister Nicola Sturgeon said it would be the "second phase" of the SNP government's information campaign.
She promised a series of papers on pensions, the tax system and measures to boost the economy.
David Cameron has urged Scots not to reduce the "unique union of nations".
The people of Scotland go to the polls on Thursday, 18 September, 2014, to vote in the Scottish independence referendum. They will be asked the yes/no question: "Should Scotland be an independent country?".
Speaking as she set out the Scottish government's plans to mark one year to go, Ms Sturgeon said the administration would outline a "comprehensive" case on the key economic issues.
She said: "In the coming weeks we will publish our proposals to better protect Scotland's pensioners, capitalise on our economic strengths to create new jobs, boost innovation and exports and build a more cohesive and equal country.
"The Fiscal Commission Working Group, consisting of two Nobel laureates, will set out how a simpler and more efficient tax system can be established, offer their advice on managing Scotland's public finances and stewarding our vast oil reserves for the benefit of this and future generations.
"In November we will publish our white paper on independence: a comprehensive guide which will answer all the questions people reasonably have about independence."
'Date with destiny'
The deputy first minister added: "Just as we will set out the evidence of the gains for people when we have decision-making powers here in Scotland, so too will we set out the real costs of leaving Westminster with economic, tax and social security powers."
Ms Sturgeon will lead a debate on "Scotland's future" at Holyrood on Wednesday.
Prime Minister David Cameron said in a year's time, people living in Scotland would be making a choice which "could radically change their country for ever".
He described the day of the referendum as "Scotland's date with destiny".
He said: "Scotland's future will be in Scotland's hands.
"I hope passionately that Scotland decides to remain within our United Kingdom. What we have works, and it works well.
"Ours is a unique union of nations. It's a union of people too. And together we've achieved so much.
"We are a family of nations within one United Kingdom. Now is not the time to reduce that relationship to one of second cousins, once removed."
The one year countdown to the referendum has also sparked a row over who should take part in a televised debate on Scottish independence.
First Minister Alex Salmond has challenged the prime minister to agree to a live, head-to-head showdown.
However, the head of the pro-union Better Together group, Alistair Darling, argued Mr Salmond should instead face him on television.
The first minister and Mr Cameron have been announced as the joint winners of the Political Studies Association's democratic innovation award for 2013 for their work on the Edinburgh Agreement, which handed the power to hold the referendum to the Scottish Parliament.
Mr Salmond said: "The prime minister deserves credit for his role in the Edinburgh Agreement, and this award is due recognition of that.
"It also shows that Mr Cameron is central to the entire referendum debate.
"As such, it is now very difficult for the PM to continue to avoid a head to head debate with myself."
In a letter to Mr Salmond, Mr Darling said. "I understand that it is your preference to debate with the prime minister.
"I do find this odd. After all, your public statements about the referendum and on Scotland's future have been quite clear that this is a decision about Scotland that should be made in Scotland.
"The prime minister, who will not have a vote next year, has made it clear that he also believes this to be the case."