Labour disputes 'bedroom tax' claim by Jackie Baillie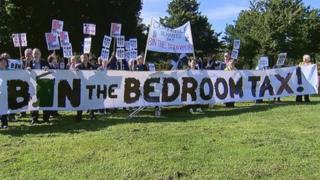 Labour has said it has not pledged to reverse housing benefit changes, after a suggestion from the party's Scottish welfare spokeswoman that it will.
Jackie Baillie told BBC Radio Scotland the party would abolish controversial cuts to the subsidy for people with unused spare rooms.
She said an announcement on what critics have labelled the "bedroom tax" would be made soon.
But a Labour source told BBC Scotland Ms Baillie had "gone a bit too far".
Her comments came ahead of two rallies in Glasgow against the changes to housing benefit.
On the Good Morning Scotland programme, she was asked: "Would a Westminster Labour government abolish the bedroom tax?"
Ms Baillie replied: "We are very clear. Labour rejected this approach when it was put to them in government, for social landlords. We have campaigned for its abolition.
"Yes we will abolish it. My understanding is that you can expect an announcement relatively soon."
'Real danger'
But a UK Labour spokeswoman said Ms Baillie's remarks were at odds with current UK party policy.
"It goes against what we are saying - we haven't made that pledge to date," she said.
She went on: "Labour has consistently said that the bedroom tax is as cruel as it is incompetent, and there is a real danger it is so badly thought through it could actually end up costing more than it saves.
"David Cameron should drop this policy and he should drop it now."
Welfare policy is reserved to Westminster, meaning the devolved Scottish government cannot unilaterally scrap the housing benefit changes.
Scottish Labour has launched a campaign against the subsidy cut, pledging a ban on evictions in Labour controlled Scottish councils, and calling for a Scotland-wide ban backed by £50m of Scottish government cash to cover rent arrears.
Launching the campaign earlier this month, Ms Baillie rejected suggestions that UK Labour leader Ed Miliband has refused to commit to reversing the changes.
"I don't think he's refused to commit. I think you'll find that that it is under active consideration," she said.
Benefit changes
Scottish deputy Labour leader Anas Sarwar has also previously said that if Labour was "in power tomorrow, we would abolish the bedroom tax".
Earlier this week the Scottish government announced £20m as part of its budget statement to support those struggling with UK-wide housing benefit changes.
Finance Secretary John Swinney also said £68m would be invested in each of the next two years to "limit the damage of Westminster's welfare cuts".
The Bin the Bedroom Tax Coalition held two demonstrations in Glasgow on Saturday, one to coincide with the Liberal Democrat conference taking place at the city's Scottish Exhibition and Conference Centre.
The group has been formed by the Scottish Trade Unions Congress, the Glasgow and West of Scotland Forum of Housing Associations, the Scottish Tenants' Organisation, no2bedroom tax, Glasgow Disability Alliance and the Beat the Bedroom Tax Collection of Musicians.
The protesters called on Deputy Prime Minister Nick Clegg, and other Liberal Democrat MPs, to withdraw their support for housing benefit changes.
'Different views'
Mr Clegg has previously admitted there is a problem with the policy, but insisted additional funding had been made available to help the most vulnerable, such as the disabled and their carers.
A spokesman for the Department of Work and Pensions said: "It is simply not affordable to pay housing benefit for people to have spare rooms. Even after our necessary reforms we continue to pay over 80% of most claimants' rent if they are affected by the ending of the spare room subsidy.
‪"These changes will help us get to grips with the Housing Benefit bill and make better use of our housing stock.‬"
The SNP has said the Labour party is "mired in confusion when it comes to the bedroom tax".
Linda Fabiani MSP, who sits on the welfare reform committee at the Scottish Parliament, said: "There appears to be different policies and views from Labour spokespeople in different parts of the UK. Miliband needs to get a grip on this.
"UK Labour must come out now to say what they would do - why should the victims of the bedroom tax have to wait for an announcement to come 'soon'."