Concern raised in Holyrood over Scottish government land deal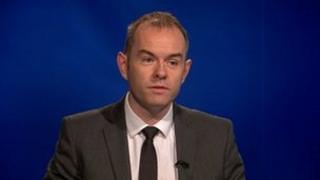 Scottish Labour leader Johann Lamont has raised concern over a controversial government land deal involving a businessman.
She said taxpayers' cash was used to buy land in Paisley from John McGlynn in 2008 for £840,000, which was later sold back to him for £50,000.
Ms Lamont asked First Minster Alex Salmond to justify the transaction when she raised the issue in parliament.
But Mr Salmond said ministers had no role in land transactions.
And, speaking during First Minister's Questions, he accused the Labour leader of peddling unfounded smears.
Meanwhile, Mr McGlynn, chairman and founder of Airlink Group, told BBC Scotland said he had bought back the land at public auction, adding: "To suggest any impropriety I actually find offensive and it's just nonsense."
The land transaction was carried out in connection with the planned Glasgow Airport Rail Link, which was scrapped in 2009 by the Scottish government.
In parliament, Ms Lamont described Mr McGlynn as a former Conservative donor who had subsequently "been on something of a political journey".
She said: "Now he supports the Yes campaign [in favour of independence].
"Since then he's been appointed to the Scottish government national economic forum. And since then, he has bought back the land from the Scottish government for just £50,000 and made a profit of £790,000."
Ms Lamont asked: "Is there some connection here, or has Mr McGlynn just benefitted from the first minister's gross incompetence with public funds?"
Mr Salmond responded: "Ministers are not involved in property transactions with regard to transport projects or anything else.
"If Johann Lamont has any evidence whatsoever that anything untoward has been happening in property transactions, then let her bring it to the chamber or bring it into the public notice.
"If she has no evidence - and she has no evidence whatsoever - then don't make attacks on people in Scotland with no reason whatsoever for making them and come to this chamber and attack people who can't answer back in the chamber."
The Scottish government later clarified that the land was bought in 2008 from the Strathclyde Partnership for Transport, which had responsibility for purchasing all the land needed for the rail link project.
A spokesman added that it had been obliged to sell the site, under Treasury rules which prevented the Scottish government holding on to land as a means of speculating on land values.
Mr McGlynn, who was on a business trip to Canada, told the BBC: "I'm extremely concerned about the unfounded statements that were made in the debating chamber, which all seem to imply, suggest, some kind of impropriety on my part, which I think is deeply troubling."
Explaining the background to the transaction, the businessman said he had agreed to the acquisition of the land for the rail link, but added: "We had to relocate a business and try and save jobs.
"We actually were out hundreds of thousands of pounds in costs."
Mr McGlynn said the the public auction at which the land was offered for sale was open for anybody to attend.
He said: "One of our lawyers attended the auction, very privately, no one knew he or she was there.
"The land didn't sell and at the end of the auction they approached the auctioneer to ask what the reserve was and what the desired price was and we paid the price."
Mr McGlynn said the price paid for the land was reflection of current property values, which he argued had "plummeted" in the last five years.
The businessman said he had not backed any particular side of the independence campaign, and said of the Labour leader's general claims: "I would be more than happy to invite Johann Lamont round to my office for coffee and we can chat about this further."