Alex Salmond to be quizzed by committee heads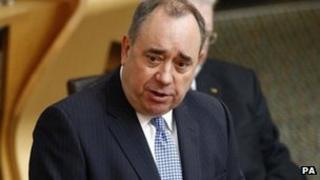 The heads of Holyrood committees were given the opportunity to quiz First Minister Alex Salmond.
In an unprecedented move, he answered questions from the Scottish Parliament conveners' group comprising chairmen of the cross-party committees.
They scrutinise government policy on issues such as justice, health, education and the economy.
Presiding officer Tricia Marwick said the move was part of a more scrutinising approach to government.
She explained: "For the first time, committee conveners will have the chance to question the first minister collectively on his legislative programme for the year ahead.
"This initiative represents a further step forward in the parliament's reforms to provide greater opportunities for members and committees to scrutinise the government."
The Conveners' Group is chaired by the presiding officer or a deputy presiding officer and is a forum where conveners meet to take a strategic view on the operation of committees and to facilitate liaison between the committees, the parliamentary bureau and the Scottish Parliament corporate body.