Scottish independence: MSPs endorse referendum plan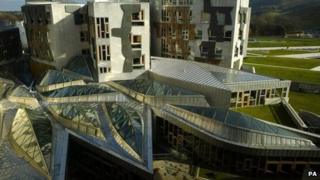 Proposals for holding the Scottish independence referendum have been endorsed by the Holyrood parliament.
The Scottish government's bill to hold the vote, in autumn 2014, has now cleared its first parliamentary hurdle.
The legislation sets out the referendum rules, like the question to be asked and campaign spending limits.
But the Scottish Independence Referendum Bill still faces two further stages of parliamentary scrutiny and voting by MSPs before coming law.
Arrangements for the referendum have already been negotiated and agreed in advance between the Scottish and UK governments, under the terms of the Edinburgh Agreement, signed by Scottish First Minister Alex Salmond and Prime Minister David Cameron.
But they are required to be turned into a law by being passed by the Scottish Parliament.
On 18 September 2014, voters will be asked the yes/no question: "Should Scotland be an independent country?"
The referendum bill would also ensure that:
The referendum itself is preceded by a 16-week formal campaign period, during which limits will apply to the amount of money registered campaigners can spend, to ensure a level playing field for both sides of the debate.
The vote is overseen by the independent Electoral Commission watchdog, which is responsible for regulating campaign rules and informing the public about the referendum.
The ballot is conducted under the direction of a "chief counting officer", who will be responsible for appointing local counting officers.
The UK government agreed to give temporary powers to Holyrood to hold a legal referendum, under Section 30 of the 1998 Scotland Act - the piece of legislation which set up the Scottish Parliament.
This is because constitutional matters are reserved to Westminster.
Separate legislation allowing 16 and 17 year olds to vote in the referendum has already been passed.