Date set for by-election in Bill Walker's Dunfermline seat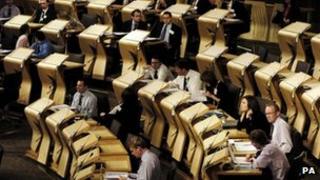 The Dunfermline by-election to find a replacement for disgraced former MSP Bill Walker will be held on 24 October.
The date was announced by the Scottish Parliament's Presiding Officer Tricia Marwick following consultation with the party leaders.
Walker resigned his seat under pressure after being found guilty of 23 counts of domestic abuse.
The attacks had been carried out against three ex-wives and a stepdaughter between 1967 and 1995.
Walker, a former SNP MSP, submitted his resignation at the weekend after claiming a "media onslaught" had made it impossible for him to continue.
MSPs are automatically thrown out of parliament if they are jailed for more than a year.
The maximum sentence Walker could get when he is sentenced on 20 September under Scotland's sheriff court summary system is 12 months, which would have allowed him to remain at Holyrood.
On Tuesday, in light of the Walker case Holyrood voted to dock the pay of MSPs who are jailed.
The measure was only backed after protests from some MSPs that the plan was being rushed through.
Despite SNP MSP Christine Grahame urging further thought on the matter, the move was backed by 105 votes to seven, with four abstentions.