Calculating business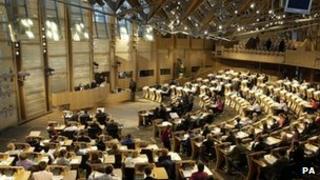 Being a mathematician, Charles Dodgson would undoubtedly welcome the numerical precision which has been deployed to determine the salary to be paid to members of the Scottish Parliament who end up serving Her Majesty in an alternative fashion.
Dodgson's deft mind would have admired the calculation which will dictate that, in future, an MSP who ends up in the slammer would lose 90% of the standard parliamentary salary.
His analytical spirit would have soared at the sum which reckons that an MSP can still carry out 10% of their workload, despite incarceration. Not 5%, not 15%, but 10%.
However, perhaps today's proceedings at Holyrood would also have appealed to Charles Dodgson's alter ego. Lewis Carroll.
Because there is, isn't there, just a scintilla of alternative reality about today's vote. Only a touch - but it is there. A sense that one has found a curious key or wandered through a looking glass.
Just as in Carroll's most seminal work, there is an intrinsic logic to the whole thing. It hangs together - except when confronted with external reality.
Onlookers tend to say, when we question them in vox pops, something along the lines of - MSP is jailed; MSP should be slung out on ear; MSP should not get a penny piece from public purse.
Now, I sympathise, I really do, with the predicament facing Holyrood this afternoon. Under devolution, MSPs do not presently have the power to alter the rules to enable them to kick out one of their number. (Plus there are good, cogent reasons to limit such action: see previous postings here.)
Hence the move on salaries. Given the limits on Holyrood powers, such a move makes perfect sense. And yet, and yet. MSPs know it's constrained.
They know it's not what the public want. They feel embarrassed by their inevitably curbed response to the whole episode.
Offer of talks
Plus Bill Walker has now, finally, stepped down as the MSP for Dunfermline, having been convicted on 23 counts of domestic abuse. The original motivation has thus vanished.
But still Holyrood proceeds with the move to dock salaries for those enduring a jail term. Again, there is good reason here.
Legally, it had to be stressed that this was not a punishment imposed solely upon Walker. It was a general alteration to the rules. Proportionate - hence 10% retained. And so it proceeds even in his absence.
Ditto the prospect of talks, initiated by the Scottish Secretary Michael Moore. Over the weekend, before Walker quit, Mr Moore offered to examine ways of resolving the dilemma in discussions with the Presiding Officer and the Scottish party leaders.
Those talks, I am told, will proceed - even although, again, the immediate conundrum has gone. Again, perfectly consistent when one considers such matters in general, rather than with regard to a specific MSP.
Perhaps, ultimately, a sensible structure will emerge from these sundry endeavours. If so, all will have won and all will deserve prizes.