Scottish reconviction rates fall to 14-year low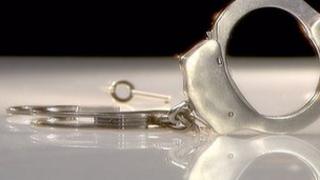 Reconviction rates have fallen to their lowest levels for 14 years.
The latest statistics for Scotland showed 28.4% of those convicted in 2010-11 were likely to be sentenced again within a year, compared with 32.9% in 2002-03.
Reoffending among under 21s was down to 34.1% - the lowest level ever recorded.
The justice secretary said the figures were testament to work by the wider criminal justice service to stop offenders committing further crimes.
The official figures on reconvictions, published by the Scottish government's chief statistician, have shown a consistent decline in recent years.
This partly reflects the reduction in overall crime levels.
Community payback
Frequency of reconvictions, which is the average for every 100 offenders in a year, fell by 10% between 1997-98 and 2010-11, from 55.6 to 50.2.
It has fallen by just over a fifth in the past nine years, from a peak of 63.9 per 100 for the period 2002-03.
People who commit crimes of dishonesty had the highest reconviction frequency rate, at 91.7 in 2010-11, while those who commit sexual crimes have the lowest, at 15.7.
More than half of those jailed for three months or less (59.8%) reoffended within a year, compared with less than a third (31.6%) of those given a community payback order requiring them to do unpaid work in their local area.
The statistics also showed the one year reconviction rate for offenders given drug treatment and testing orders (DTTO) has fallen by almost 14% over the last eight years.
Justice Secretary Kenny MacAskill said: "The marked fall in reconvictions among all groups, but particularly people under 21, is testament to work done by our police, courts and other justice partners across Scotland to get offenders back onto the straight and narrow and stop them from committing further crimes upon release.
"Prison is and always will be the right place for serious and dangerous offenders, but what all the evidence shows, and what today's statistics reinforce, is that sending low level offenders out to pay back the community through manual labour, backed by work to address the underlying issues which fuel the crime, is far more effective.
"Today's statistics build on the strong progress being made in Scotland's justice system, with recorded crime at a 39-year low, knife crime down, and a thousand extra officers protecting our communities, and serious criminals now being punished through the longest prison sentences in a decade."
'Tackling reoffending'
Earlier this year the Scottish government announced almost £7.7m of funding for an initiative aimed at reducing reoffending rates.
The money will be spent on establishing a national network of mentoring schemes, which will target prolific offenders who are at risk of committing more crimes.
They will be given one-to-one support to deal with their problems.
Scottish Labour welcomed the reduction in reconvictions, but Graeme Pearson MSP added: "The statistics show that reoffending amongst over 25s has either increased, or remained largely static.
"We know that prisoners are often left in their cells, watching TV, rather than getting the skills and education they need to improve their lives.
"We also know that tackling reoffending remains patchy across Scotland and these figures reflect that. So while there has been progress, the Scottish government should explain clearly and plainly quite how any reduction has been achieved."
The Scottish Conservatives highlighted the fact that two-thirds of criminals handed a drug treatment and testing order (DTTO) reoffended within a year.
The party's justice spokeswoman, Margaret Mitchell MSP, said: "This would appear to be good news if you believe the spin the Scottish government is putting on it.
"But it doesn't take long to find matters of great concern within this report.
"Given two-thirds of those given DTTOs reoffend within a year means this disposal is in danger of becoming nothing more than a mechanism for avoiding a custodial sentence."
She added: "Clearly it is totally unacceptable that so many offenders issued with DTTOs are reappearing in the dock over and over again."